Photinia x fraseri red robin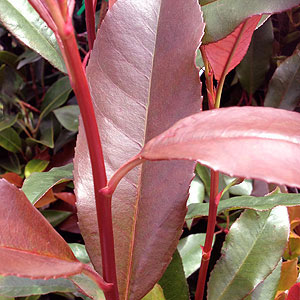 One of the most widely used hedging plants are the Photina, with cultivars such as Photinia fraseri 'red robin' being amongst the most popular.
With glossy foliage, dense and a bushy habit these are really an easy care plant. Excellent as a large screen or windbreak. 'Red Robin' for example will reach 6m and is reasonably fast growing. Flowering in spring pruning can be carried out at this time.
Also available as a standard Photinia fraseri 'red robin' makes an interesting feature, used as a street tree, or grown in a container, an attractive nice clean trunk is easily attained and the brilliant new red foliage and bushy growth make it a useful alternative to others.
The smaller growing or 'dwarf 'form 'Little Robin' is an excellent choice for a lower hedge, easily maintained at around 1m (3ft).
Photinia Care
A well drained humus rich moist soil is best, full sun to a little shade. When planting out provide some protection from frosts for the first years, planting in spring is a good choice.
Photina plants are available for sale from the following growers
HEDGES DIRECT Ltd - Phone 01257 263873
Five Acres Nursery Dawbers Lane Euxton PR7 6EE
Huge range of beautiful hedging plants, bare root, cell grown, pot grown, or root balled. All the main hedging species in all sizes. Thousands of satisfied customers. Discounts on large orders. Min order value £20 & FREE DELIVERY on orders over £50. Advice by phone or email helpdesk@hedgesdirect.co.uk
www.hedgesdirect.co.uk
GRASSLANDS NURSERY
Free Green Lane, Peover Superior, Knustford, Cheshire, WA16 9QY
Phone: 01565 722836, Fax: 01565 723954
Hedging, topiary shapes and much more. Nationwide delivery available.
www.shrubsdirect.com
More Hedging Plants for the UK including a wide range of hedging styles suitable for hedges in almost any situation, hedging plants include low and tall growing plants, hedging plants for shade and sun as well as flowering, fast growing and slow growing hedges.