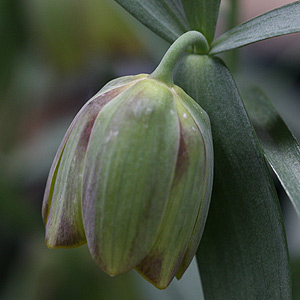 Fritillaria pontica
Another easy care frit is Fritillaria pontica, a medium growing frit and is perhaps one of the easier to grow. Growing to almost 50cm unlike some other fritillaria, Fritillaria pontica will naturalize fairly readily. Bell shaped flowers in spring make these an attractive addition to the garden.
The flowers start out as green and develop brown to orange markings. Like many frits, Fritillaria pontica seem to have a slightly unpleasant odour, but this is not overpowering.
Care
Originally from Greece, Turkey, Albania and nearby countries Fritillaria pontica do well in a partly sunny position in the garden. Try morning sun and a raised garden bed or perhaps try growing these in a group in a pot.
For more Fritillaria and Fritillaria Nurseries in the UK see our Main Fritillaria page or view information on individual species below: