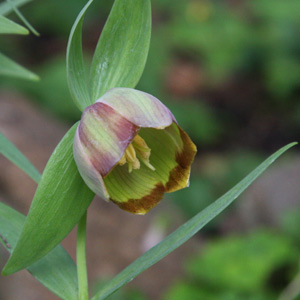 Fritillaria acmopetala
We find Fritillaria acmopetala (see picture right) to be a fairly easy species to grow, and with flowers that are a strong shape and form it makes an impact in the rock garden or in a container.
Growing well in full sun and a well drained position this fit is originally from Southern Turkey and is one of the older cultivated forms. And although known as the 'pointed leaf fritillaria' the species is variable.
Late flowering with large nodding flowers, pale green with a maroon inner and a yellowish lip, although the colours are variable with some plants having a more burnished inner.
Happy to spread in the garden this is an easy bulb for beginners.
Propagation is from seed or the 'rice' of the old bulbs. Fritillaria acmopetala ssp. wendelboi is smaller growing than the species.
Care
Fritillaria acmopetala are a medium growing frit that prefer a well drained woodland environment.
For more Fritillaria and Fritillaria Nurseries in the UK see our Main Fritillaria page or view information on individual species below:
You may also be interested in: