Orchids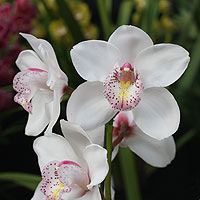 A wide range of rare and exotic orchids are available for sale from specialist orchid nurseries and suppliers in the UK. Many growers include a range of hardy orchids for cool climates as well as the unusual exotic and tropical orchids that require special care and growing conditions.
Orchids are one of the most popular flowering plants in the world. We provide information on orchid care, how to grow orchids, different orchid species and where to buy Orchids and Orchid Accessories form online mail order suppliers.
Orchids can provide a beautiful display if kept inside the house when in flower, but how do we care for them?
Many suppliers will supply comprehensive growing notes specially written for specific species and cultivars. We provide a general guide.
Orchid Varieties
Cymbidium Orchids and Zygopetalum Orchids need to be given a thorough watering every two weeks depending on how warm your greenhouse or house is kept. The flower spikes on cymbidiums may be cut once they have opened and will keep well in a vase.
Paphiopedilum Orchids or 'Slipper Orchids' require humidity, try a saucer of water filled with small stones placed beneath the pot. Paphiopedilum Orchids prefer to be kept out of direct sunlight.
Masdevallia Orchids need humidity as well, water thoroughly each week and use the pebbles to keep some humidity.
Orchids are available for sale from the following nurseries and specialist growers
MT BEENAK ORCHIDS
Specializing in Masdevallia Orchids for cool climates.
Yes we send to the UK. Order size limits may apply
www.mtbeenakorchids.com.au
BEWDLEY ORCHIDS
20 Woodthorpe Drive Bewdley Worcestershire DY12 2RH
Native and other orchids. Ophrys, Serapias, Dactylorhiza, Anacamptis and others.
www.bewdleyorchids.com
FIR TREE FARM NURSERY p hone : 01326 340593
Tresahor Constantine Falmouth Cornwall TR11 5PL
We list over 4000 varieties of cottage garden and rare perennials. Mail order to the UK and Europe. Open Tues to Sun, from Feb to Nov. Includes: anacampsis, bletilla, cypripedium, dactylorhiza, epipactis, ophrys, pleione.
LANESIDE HARDY ORCHID NURSERY - phone 01995 605537
74 Croston Road Garstang Preston PR3 1HR
Offers the largest selection of terrestrial hardy orchids in the UK. Nursery, mail order or shows.
www.lanesidehardyorchids.com

IVENS ORCHIDS Ltd - phone 01727 863178
Great Barn Dell St Albans Road Sandridge Hertfordshire AL4 9LB
RHS Gold Medal winners Wholesale orchid nursery, Cymbidium, phaleanopsis, zygopetalum, miltonia, paphiopedilum,and many other genera. Orchid compot,Trade formula Orchid feed, One-day workshops
www.ivensorchids.co.uk

EDROM NURSERIES phone 018907 71386
Coldingham Eyemouth Berwickshire TD14 5TZ
A small family run nursery 600 feet up in the Scottish borders specializing in Hardy orchids, Meconopsis, Gentians, Hepatica, Trillium and many other unusual alpine and shade loving perennials. We specialize in mail order across Europe.
www.edromnurseries.co.uk
More Orchid Resources for the UK