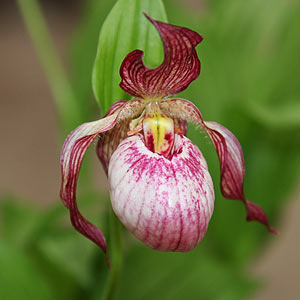 Cypripedium Orchids
Cypripedium Orchids are a commonly referred to as 'Lady Slipper Orchids' .
In the UK species these flowering wonders are now almost extinct in the wild due to widespread forest clearance with C. calceolus being found occurring naturally in only one or two clumps.
However many species are available for sale and certainly these wonderful flowering plants are well worth a spot in the garden or in a pot.
As with most orchids, Cypripediums have been extensively hybridized, and many named cultivars are available for sale online and at garden shows.
Now as a matter of interest Cypripedium calceolus means 'shoe of venus' and is the rarest flower in Britain they flower in the spring around May.
Culture and Care
Wonderful flowering species such as C. reginae and others prefer a fair amount of shade, dappled shade to deep shade.
They seem to like a little dolomite lime once a year and certainly prefer a climate where they get cool nighttime temperatures.
Good drainage, no EXCELLENT drainage is essential.
A little mulch and some bone meal fertilizer and they are a wonderful plant.
Cypripedium Orchids are available for sale from the following nurseries
EDROM NURSERIES - phone 018907 71386
Coldingham Eyemouth Berwickshire TD14 5TZ
Specializing in Hardy orchids, Meconopsis, Gentians, Hepatica, Trillium. Mail order across Europe.
LANESIDE HARDY ORCHID NURSERY - phone 01995 605537
74 Croston Road Garstang Preston PR3 1HR
Offers the largest selection of terrestrial hardy orchids in the UK. Nursery, mail order or shows.
More Orchid Resources for the UK