Dactylorhiza Orchids
Native to the marshy areas of Britain and Northern Europe Dactylorhiza Orchids are are generally hardy in Britain.
When we look at orchids, names like Dactylorhiza 'Harold Esslemont' ( pictured below )is probably not one that springs to mind, however we think it is just under rated.
These is a hardy orchid with a compact habit, Dactylorhiza are known as march orchids and sometimes 'spotted marsh orchids' however this will depend on the species and cultivar.
Care
The best time to buy these easy care orchids is in autumn when they are dormant.

Plant out immediatly

Dig the soil over well but do not add much in the way of manure, a little well rotted compost is ideal.

Dactylorhiza do not seem to like fertiliser that much and do well without much attention.

You can also naturalise them into a lawn, and of course they grow well in containers.
You also need to distinguish between the varieties that like moist conditions and those that do not. Some from mediterranean climates require excellent drainage and more warmth than those from cooler areas.
Propagation is easiest by division, best left alone for 3 - 4 years and you should have a good clump ready to divide.
Best Dactylorhiza Orchids for the UK
Dactylorhiza purpurella with its purple to pink flowers is a low growing species well suited to the British climate. Dactylorhiza fuchsii has pale pink to mauve flowers. Dactylorhiza majalis is a broad leafed variety with purple flowers, around 35cm tall.
Dactylorhiza praetermissa is known as 'The Southern March Orchid' and will grow to almost 80cm. Dactylorhiza incarnata is the 'early marsh orchid' and is shorter growing than Dactylorhiza praetermissa, while Dactylorhiza fuchsii is the 'Spotted Orchid'.
Dactylorhiza Orchid Species include: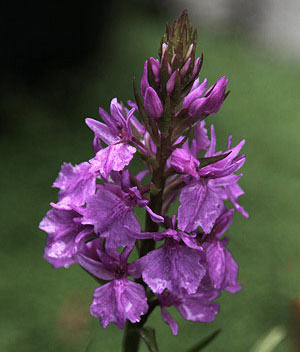 Dactylorhiza aristata
Dactylorhiza elata
Dactylorhiza foliosa
Dactylorhiza grandis
Dactylorhiza incarnata
Dactylorhiza japonica
Dactylorhiza lapponica
Dactylorhiza maculata
Dactylorhiza majalis
Dactylorhiza pardalina
Dactylorhiza praetermissa
Dactylorhiza purpurella
Dactylorhiza traunsteineri
Dactylorhiza viridis
Dactylorhiza Orchids are available for sale from the following nurseries
BEWDLEY ORCHIDS
20 Woodthorpe Drive Bewdley Worcestershire DY12 2RH
Native and other orchids. Ophrys, Serapias, Dactylorhiza, Anacamptis and others.
www. bewdleyorchids.com
LANESIDE HARDY ORCHID NURSERY - phone 01995 605537
74 Croston Road Garstang Preston PR3 1HR
Selection of terrestrial hardy orchids in the UK. Nursery, mail order or shows.
More Orchid Resources for the UK