A Gardeners Guide to Growing, Planting and Buying Plants
Specialist nurseries are the best place for buying plants and bulbs. We provide a guide to some of the best plant growers in the UK many specialising in a particular genus of plants or bulbs and offer the widest selection for sale.
With 1000s of photographs and lots good practical advice on choosing and growing plants for gardens across the UK. Easy provides access to gardening tips that will suit both the beginning and experienced gardening enthusiast.
Join us to find plants from Aucuba to Zelkova along with descriptive growing notes. We evaluate new release plants, water fountains, garden design, hanging baskets and just about anything that you will ever need to help you grow an exceptional garden.
Narcissus bulbocodium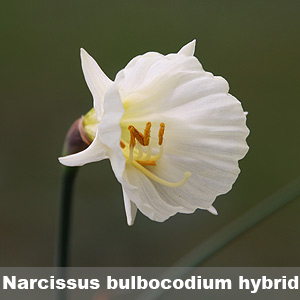 These are the 'Hoop Petticoat' daffodils, and it is not only the species that are wonderful spring flowering bulbs. Some of the modern hybrids are well worth seeking out. Read More
What's Inside
We cover plant pests and diseases, beneficial insects, butterflies, birds and deer resistant plants.
Plant propagation techniques
You can follow us on google plus, Facebook or twitter to ask questions or simply be a part of the gardening conversation.
Subscribe to our blog for ideas and updates delivered by email.
We look at plant zones, soil, fertilizers and watering requirements, and it is all free.
And yes we can tell you what plants are for sale and where to buy them.
Tools and equipment, what's new and what's the best value.
Check out our international sites for gardening in the UK and even gardening Down Under.
Bromeliad Care
A seach facilty to help you find a garden centre in your local area.
About Us
Its all about Plants Online at Nurseries Online, a guide to finding plants, 'how to' plant growing guides and gardening. We locate the best specialist nurseries in the UK, provide a guide to Garden centres, Wholesale nurseries as well as all of those gardening accessories that go to make life easier.
If you are trying to find garden plants, want to know how to grow and care for them, how to prune them and how much they should cost, we have the answers.
We can tell you the right fertiliser to use, the best position to grow garden plants as well as which plants will suit your climate zone.
Need to know about plant propagation or garden design, we have it covered with fact sheets and ideas for any garden. Looking for garden ornaments, water features.
And of course Gardening events, a free listing service for garden shows, plant fairs and even gardening clubs.