Miniature Daffodils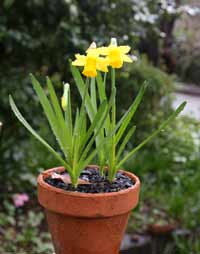 Miniature Daffodils (dwarf daffodils) are a wonderful addition to the rock garden, border or simply grown in pots or containers, they require similar in care requirements to other daffodil bulbs and varieties.
Bulbs classed as miniatures produce smaller flowers and less foliage than the full sized relatives. Narcissus asturiensis is actually a miniature daffodil species from Spain and Portugal however many miniature daffodils are the product of hybridizing over many years.
Narcissus 'Hawera' is a well known miniature cultivar. 'Tete aTete' is another hardy variety that grows well in pots as well as in the garden.
Grown in a small terracotta pot (pictured right), miniature daffodils can be moved into view as they come into flower.
Miniature Daffodil varieties

Miniature Daffs fall into a number of groups with slightly different characteristics. They all have smaller more delicate flowers than their larger cousins, however within the group we have variety.
Triandus hybrids are one group, usually with multiple flowers on each stem and often with reflexed petals, mostly reaching around 30cm. N.Thalia is a wonderful white flowering example.
Cyclamineus hybrids usually have only one flower on each stem, reflexed petals and the flower is at an acute angle from the stem. Again reaching around 30 cm. Jet Fire is well known.
We also have the Bulbocodiums or 'Hoop petticoat' daffodils also miniature Tazzeta such as N. odorous and N. pachybulbus.
Others include the popular Tete a Tete, the tiny N. rupicola with a stem of 4cm. N. fernandessii that reaches around 20cm and Hawera, with its twisted petals and pendulous flowers.
N.viridiflorus is a species with dainty green flowers, fragrant.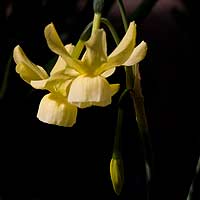 Miniature Daffodil Care
Try growing these tiny wonders in pots or containers where you can shift them into a prominent spot when flowering. Narcissus 'Hawera'(pictured right) is an easy care and very popular miniature daffodil, excellent in containers.
Remember that growing bulbs in pots means you will need to divide them every second year.
You will also need to fertilize them a little more than if you grow them in the ground, bulbs are fairly hungry, even miniature ones, and growing them in pots means that the growing medium tends to get exhausted fairly quickly.
You can lift them in winter, however, pots can simply be put into a dry position, or even just tipped onto their sides.
People who like this also liked: