Narcissus hawera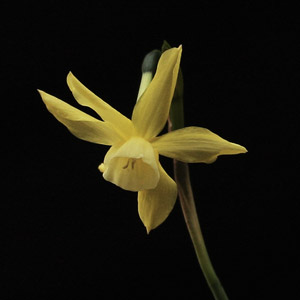 A wonderful pale yellow flowering dwarf daffodil, Narcissus hawera is a little later in spring than some. This is a triandus type ( Narcissus triandus 'hawera' is the correct name) it was actually bred in New Zealand.
The cup is a little paler than the petals and on tallish slender stems to around 12 inches, the flowers are long lasting (see picture right).
Excellent when naturalized into a lawn, at home in the rock garden or grown amongst Hostas, Narcissus hawera is a wonderful, easy care bulb.
One of the great attributes is that each bulb will send up 4 -5 stems, so multiple flowers from each bulb.
As it is a little late to flower, when Narcissus hawera does bloom you can be sure that spring has finally arrived in the UK.
Where can you buy Narcissus hawera bulbs
We found our first bulbs at a plant fair, and they have been a bargain. Reliable and easy care. They are readily available online - expect to pay around £3.50 - £4 for 10 good flowering sized bulbs. Sometimes a little cheaper at the summer plant fairs.
Narcissus hawera Care
Like all Narcissus, try Narcissus hawera in a well drained humus rich soil, full sun to part shade.
Narcissus hawera grow well in pans or containers but are equally suited to planting in groups in the rock garden or a sunny spot in a woodland garden.
We find that in the garden these do not require much fertilizer at all, in containers we use a liquid seaweed fertilizer every 1-2 weeks during the growing season, and as we repot every 3 years the new potting mix each time seems to carry them through.You can deadhead Narcissus hawera to tidy up, but leave the foliage to die back naturally.
Propagation of Narcissus hawera
This is a hybridized variety so propagation by division of established clumps which is carried out during summer dormancy.
Summary
position - full sun to part shade in a well drained soil
height - 25 cm
flowering time - April to May
planting depth - around 10cm
best time to purchase - summer for bulbs, although you can buy pots of these pretty bulbs at the spring plant fairs.