Magnolia Trees
Magnolia trees for sale in the UK include some small growing or dwarf evergreen varieties and deciduous species and varieties that are renowned for having some of the most elegant flowers in the plant world.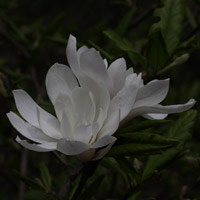 With many flowering types of available especially species such as Magnolia stellata, remember that they also have fantastic foliage, with some growing leaves almost 1m long. Magnolias for sale in the UK come in both evergreen (Magnolia grandiflora and others) and deciduous forms.
If you are looking to buy one of the smaller growing forms, Magnolia Stellata 'Waterlily' is the closest you will come to in terms of a miniature or dwarf deciduous variety.
It is actually just a slow and naturally compact form. With showy white open flowers generally appearing on bare stems as with most deciduous types, Magnolia Stellata 'Waterlily' (picture right) is a real stunner.
Deciduous types are mostly from China, Japan and surrounding areas. Evergreen varieties for sale include new introductions such as Magnolia 'Teddy Bear' and 'Kay Parris', smaller than many, as well as Magnolia Grandiflora species are all available for sale or to buy online.
Widely used in gardens, not only for the fantastic flowers, but also for the foliage Magnolias make great feature trees and some are also for being suitable for use as screening trees.
Magnolias prefer an open sunny position, mulch or leaf litter out to the drip line will help keep roots cool. Magnolia Macrophylla with its large fragrant white flowers with red inner band and leaves up to .5m is a fantastic specimen. Magnolia Little Gem is a very popular evergreen variety. Little gem is a dwarf form of Magnolia grandiflora and grows to approx 4m by 2.5m and is great as a feature or even as a screening tree.
Where to grow Magnolia Trees

Preferring an open sunny position to part shade, protection from strong winds and mulch or leaf litter out to the drip line which will help keep roots cool.
Magnolia Tree care and growing hints.

Generally they do not have a high fertilizer requirement once established. Before planting dig in well rotted manure and remember to water regularly when establishing. Flowers in the first year can sometimes be a little disappointing, but this will improve by the third year.
Pruning Deciduous Magnolia Trees

Most deciduous varieties require little to no pruning at all. Remove dead or damages branches and perhaps prune to maintain shape and size.
Pruning Evergreen Magnolias - See Magnolia Grandiflora
Magnolia trees are available for sale from the following growers
THE GOBBETT NURSERY - e-mail christine.link@lineone.net
Farlow, NR Kidderminster, Worcs, DY14 8TD
Selling quality shrubs, climbers & perennials. Specialising in Syringa, Camellia, Daphne, Magnolia, Cornus. Includes: Magnolia stellata, Magnolia soulangiana, Magnolia grandiflora. Magnolia hybrids and species.
BLUEBELL ARBORETUM and NURSERY Tel: *(01530) 413700.
Annwell Lane Smisby nr. Ashby de la Zouch Derbyshire LE65 2TA
Specialist mail order and retail nursery that grow and sell a huge variety of rare and unusual trees, shrubs, grasses, and herbaceous!
CHEW VALLEY TREES Tel: 01275 333 752
Winford Road Chew Magna Bristol BS40 8HJ
Tree nursery selling top quality specimen and ornamental bare root and container grown trees, shrubs, hedging and fruit trees. Available wholesale and retail nationwide. Includes: Magnolia stellata, Magnolia grandiflora, Magnolia soulangiana and others.
WEASEDALE NURSERIES Ltd - Tel: +44 (0)15396 23246
Newbiggin on Lune, KIRKBY STEPHEN, Cumbria, CA17 4LX UK
Mail-order specialists and growers of bare-root hardy trees and shrubs at an elevation of 850 feet (260 metres) above sea-level since 1950.
THE ROMANTIC GARDEN NURSERY- Tel 01603 261488
The Street Swannington Norwich Norfolk NR9 5NW
We are a specialist nursery holding a large stock of Topiary, Ornamental Standards and Specimen size Shrubs and Trees.
All plants can be delivered. Nursery open Wed, Fri and Sat 10am to 5pm
You may also like

M. lilliflora
M denudata
M.wilsonii. Magnolia wilsonii is an interesting form, it has drooping or pendulous flowers that hang down, a multi stemmed deciduous shrub well worth a place in the garden.
M. Little Gem
M. Kay Parris
M. Teddy Bear