Hebe Pretty n Pink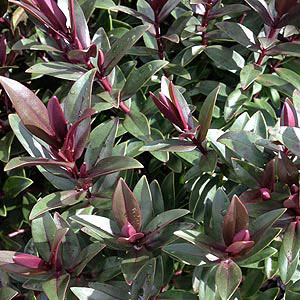 As a foliage plant Hebe Pretty n Pink is a standout with deep burgundy pink new growth. This contrasts well against the older green foliage to give long lasting color to the border. So wonderful new growth and good year round foliage.
Masses of pink flowers cover the plant from late spring into autumn and like most hebes Hebe Pretty n Pink is best planted in a sunny position where drainage is excellent.
Suited to growing in containers or as an evergreen filler in the garden border it can also be used as a low hedge along a pathway.
A little more vigorous than some others Hebe Pretty n Pink spread to nearly 1m and will fill in a position the garden quickly. Height is easily maintained at around 30cm, this is a low growing variety.
Hebe Pretty n Pink Care
Full sun

well drained soil

Fertilize with a slow release fertiliser in spring

Not suited to coastal conditions

Tip prune occasionally to maintain shape.