Euonymus Hedging plants.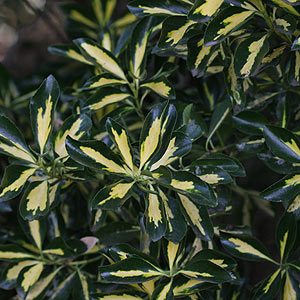 Some of the most versatile and adaptable evergreen shrubs are the Euonymus. Widely used in hedgerows for many years many cultivars, including variegated and dwarf varieties are available in the UK.
Reaching around 9ft (3m), 'Red cascade is a popular cultivar. While 'Emerald and Gold' is a wonderful variegated cultivars, yellow margins with a mid green centre. One of the more interesting cultivars is 'Emerald Gaiety', silver margins with a mid green centre.
Or look for Euonymus japonicus 'mediopictus', pictured right, outstanding contrast in variegated foliage.
Euonymus Care
Generally pruning is all that is required. New plants can be pruned back 1/3 each year to help develop a good bushy habit.
Euonymus varieties
Euonymus fortunei is known as the 'winter creeper' a low growing species with attractive foliage.
Euonymus alatus has brilliant red autumn foliage.
Euonymus europaeus is known as the 'spindle tree' and is a small flowering deciduous tree or shrub well suited to a sunny position.
Euonymus hedging plants for sale online
HEDGES DIRECT Ltd - Phone 01257 263873
Five Acres Nursery Dawbers Lane Euxton PR7 6EE
Huge range of beautiful hedging plants, bare root, cell grown, pot grown, or root balled. All the main hedging species in all sizes. Thousands of satisfied customers. Discounts on large orders. Min order value £20 & FREE DELIVERY on orders over £50. Advice by phone or email helpdesk@hedgesdirect.co.uk
www.hedgesdirect.co.uk
More Hedging Plants for the UK including a wide range of hedging styles suitable for hedges in almost any situation, hedging plants include low and tall growing plants, hedging plants for shade and sun as well as flowering, fast growing and slow growing hedges.