Tiarella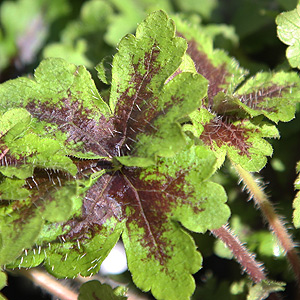 Tiarella are a long flowering perennial well suited to a part shaded position. They make a great ground cover plant and with spikes of pale pink flowers from spring through to summer along with evergreen foliage they are a great alternative or substitute for Heuchera.
Lobed, maple like foliage, green with deep burgundy central markings is typical. Plants spread by undergound rhizomes or 'runners' so plant them where they will have room to move.
Tolerant of dry conditions a place beneath deciduous trees or close to the dripline of evergreen trees is ideal. Lots of cultivars that vary greatly in terms of foliage markings and flower color.
Tiarella are readily available for sale online in the UK.
Tiarella Care
Although Tiarella are vigourous they do not usually present a problem. They grow well in dry shade and will perform well for a number of years with little attention.
Cool moist position is best, however thry will grow in dyish soils.
In the UK light shade is best for good flowers, full morning sun is also suitable.
Plant at around 30cm apart if you are looking at forming a ground cover effect.
Poor drainage over a winter will cause problems.
Clean up the foliage regularly to prevent disease and fungus issues.
Tiarella Varieties
Here we are looking at the species as well as the named hybrids and cultivars.
Tiarella species include
T.cordifolia and T.wherryi.
Tiarella cordifolia is known as the 'Foam Flower' and has fairly plain green lobed oakleaf like foliage.
Tiarella wherryi has foliage that is tinged with purple.
Cultivars
'Pink Skyrocket' with its improved pink flowers and dark markied foliage.
Appalachian Trails, excellent vigorous form with white flowers and good marking on the foliage.
Tiarella 'Iron Butterfly' with even stronger leaf markings are very popular.
Tiarella 'Jeepers Creepers' is another with dark markings on the foliage.
'Sugar and Spice' is also worth looking for, found for sale at garden shows and plant fairs as well as local garden centres.
You may also be interested in :