Daphne cneorum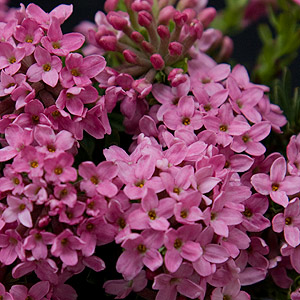 The Garland flower is an apt description for Daphne cneorum. it is bright and festive daphne and does make an excellent garland. (see picture right)
Flowering in early spring this low growing shrub becomes covered with masses of pretty pink flowers and yes they are fragrant. It will reach a height of around .4m, however this may take 8 - 10 years.
Daphne cneorum Care
A well drained humus rich soil and some protection from frosts. Excellent in a rock garden where its low growing nature really fits in well.
This daphne will actually spread by putting down roots where it contacts the ground, it may take time but it will do it. More sun for Daphne cneorum than some other species.
A little judicious pruning of Daphne cneorum after flowering will help keep this wonderful flowering plant in good shape.
Summary
Evergreen
Fragrant Pink Flowers
Low growing to .4m (5 inches)
Sheltered position
Humus rich moist well drained soil
Full sun to afternoon shade
Propagation
Although not the easiest plant to propagate you could try propagation by softwood cuttings, taken in spring. Layering is an alternative method of propagation. Cuttings can be taken in late autumn using a bottom heat type propagator with a misting system. Another method is to take cuttings in summer, again use a misting system.
Seeds can be sown in autumn into a cold frame, howver you will need to patient. Seeds can be collected from the berries that form in spring, however this is a species that does not set berries very often.
Daphne cneorum varieties
Also known as the 'Rock Daphne' and 'Rose Daphne' a number of named varieties are available.
Daphne cneorum 'Eximia'
Daphne cneorum 'Ruby Glow'
Daphne cneorum 'verlotii' is a more compact form, rosy fragrant pink flowers.
Daphne cneorum 'Variegata' with its creamy margins is anther form to look for.