Hostas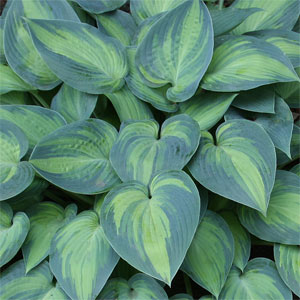 Great foliage plants, and hostas are wonderful grown both in containers and in the garden border. The hosta is a shade loving garden plant grown for their attractive leaves.
With over 50 species and literally 100s of cultivars available for sale they provide great opportunities for the landscape gardener to add texture and color to the shade garden. We include a few pictures to whet your appetite.
The main attraction is the texture and fantastic pattern of the foliage, from deep blue green heavily textured plants to finer lime green leaves with white or golden variegation, see picture right. Although they do flower as well, an added interest. Hosta ventricosa is the 'blue plantain lily'.
Hosta Varieties
Hosta 'Sum and Substance' is a large variety and Princess Wu is even bigger, so if you are looking for large leaves these two are worth seeking.
Some have gold or white edges while others are green with splashes of yellow inside or the reverse. Flowers are attractive and perfumed and range from white through to purple depending on species and cultivars.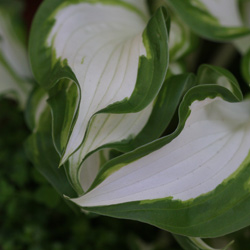 When planting hostas choose a position which gets plenty of shade, especially in the afternoon, ours grow where they get some morning sun but this goes quickly and they are in dappled to fairly deep shade in the afternoon.
With spectacular foliage Hosta 'marginata' (picture right) is a variety that makes a real statement in the garden or grown in a pot or container.
Growing Notes and Care
Once you have chosen the position dig the area over well adding some well rotted compost and aged animal manure, as always we like to prepare the area and then leave it for 2 -3 weeks to let any heat go out of what we have added.
Plant in groups and they will clump up nicely in a few years.
We water in with a liquid seaweed fertilizer and also use a little slow release fertiliser early in spring.
If growing in pots or containers use a good quality potting mix that will retain moisture. Hostas look great in pots.
Hostas, Slugs and Snails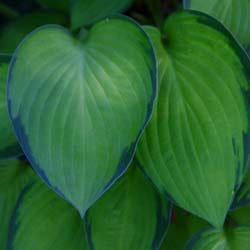 Snails and slugs seem to love Hosta leaves more than any other plant in the garden. Here are a few tricks to keep slugs and snails away from Host leaves
Start by watering in the early morning so that the soil dries out by night.


Remove any rubbish where snails and slugs like to hide in the daytime, this is the prevention bit.


Go on a snail hunt at night with a torch, collect the little critters and dispose of them.


Set some snail and slug traps, cardboard or newspaper tubes, slightly damp, the snails and slugs will make these home, and you can just remove the trap and dispose of it. Use a beer trap, fresh beer every day please.


Plant the varieties with the heavily textured leaves are less attractive to snails than others.

The variation in leaf form and color in hostas is huge, some are deeply texctured as well. Leaves with more texture seem less attractive to pests.


Try a diluted vermicast (worm wee) tea, pour this over the foliage, it seems that the slugs and snails do not like the taste.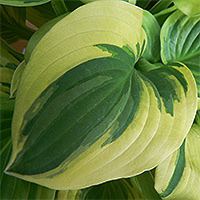 Hosta care is not really difficult, in winter they will go dormant, a good tome to clean up and remove any pests that have escaped your traps. Hostas can be divided early in late winter to early spring, clumps are best divided every 3-4 years to promote excellent growth.
Can you grow hostas from seed, yes but seed from hybrids will not come true, but worth a go, you never know what you might produce.
You may also be interested in
Hostas are available for sale from the following Nurseries
MOUNT FOLLY NURSERIES
Phone: 01329 832294 07000 M-O-U-N-T-F :: 07000 F-U-C-H-S-I-A
Young plants specialists. Growing Fuchsias, Geraniums, Patio Plants and Plug Plants. One of the best selections available in the UK direct from the grower!
www.mountfolly.co.uk
ABRIACHAN NURSERIES, 'The Garden on Loch Ness'
Loch Ness Side Inverness IV3 8LA
Tel/fax: 01463 861 232
Hostas. We specialise in primulas, auriculas, sempervivums and helianthemums.
BALI-HAI MAIL ORDER NURSERY
42, Largy Road city: Carnlough, Ballymena Co.Antrim BT44 0EZ
phone: 00442828885289
Hosta specialist with over 1100+ varieties for sale. and many more cottage garden perennials shipping worldwide.
HALCYON PLANTS
Plas y Maes Trawsmawr Carmarthen SA33 6NH
Phone 01267 281031
'Lavender, Bamboo, Shrubs, Perennials, Crocosmia, Lily, Potentilla, Plant Seed, Iris, Hemerocallis, Hardy Fuchsia, Hardy Geranium, Herbs, Dianthus, Hosta, Phormiums, Penstemon,Heuchera, Potentilla, Cistus.
SHADYPLANTS.COM
Upper Doreys Mill, Edge, near Painswick, Stroud Glos GL6 6NF
01452 812459
Includes: Amorphallus Konjac and Amorphallus Nepalense
We are a small nursery in the Cotswolds specialising in Aroids especially Arisaemas and Amorphophallus, Other shade plants including Hostas, Disporums, Epimediums,Roscoea etc.
WALNUT TREE GARDEN NURSERY
Flymoor Lane Rocklands Attleborough Norfolk NR 17 1BP
Tel: 01953 488 163
Offering a wide range of herbaceous perennials, ornamental trees,¬? shrubs and old roses; includes rare varieties and species and¬? well-loved classics; large plantsmans' garden.