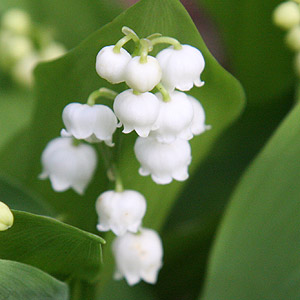 Lily of the Valley - Convallaria
Lily of the Valley Flowers are one of the highlights of spring season and the plants are available as bulbs or rhizomes, sold during autumn. We look at how to plant, propagate and care for Lily of the Valley.
Making a great ground cover in a moist, semi shaded position Lily of the Valley plants or pips prefer a humus rich soil. Convallaria majalis Rosea is the pink flowered Lily of the Valley.
Widely used in bridal bouquets Convallaria are actually a rhizome the sweetly perfumed flowers are delicate and attractive. Lily of the Valley can be grown in pots or containers. Lily of the Valley Bulbs or Plants are available for sale online for planting during Autumn and Winter for spring flowering.
Care
Lily of The Valley Plants are actually a corm or rhizome that will spread underground given the right conditions.
Planting Lily of the Valley
You can buy Lily of the Valley as either plants (usually potted) or as pips. The pips will be cheaper and as they will be dormant can be planted out in late autumn. Pips are sometimes referred to as bulbs, however they are actually a rhizome not a bulb are best planted around 3 - 4 cm deep in a humus rich moist well dug soil. Water in with a little liquid seaweed fertilizer. They do need good drainage so no waterlogged soils please.
Some gardeners like to pot the pips when they first get them and give them time to establish in a container before planting out the following year.
We like to lightly mulch with some well rotted compost or leaf mould in early winter and add a little potash at the same time. When the new growth first appears we water with a liquid seaweed fertilizer.
Try planting between hostas for a nice effect.
Lily of the Valley Varieties

Lily of The Valley plant species are Convallaria majalis is native to Europe while Convallaria majalis var. montana is from the USA. Convallaria majalis keiskei is from Japan.
In the garden we are generally looking at Convallaria majalis in either white or pink flowering plants, although some Lily of The Valley do have variegated foliage, just to add a little extra interest for your search.

And if you are looking for something different try Convallaria majalis 'Fortins Giant' which is a taller cultivar with slightly larger flowers or Convallaria majalis 'Flore Plena', this one is a double Lily of the Valley.

Lily of The Valley Season is spring. Plant them in Autumn in groups or clusters of plants, or try them in a pot for a portable display of fragrant plants.
Also look for :
Lily of the Valley plants are available for sale from the following suppliers and nurseries
PRIME PERENNIALS NURSERY - Phone: 01974 24150
Llety Moel Rhos-y-garth, Llanilar, Aberystwyth Ceredigion SY23 4SG5
Specialist mail-order nursery. Unusual perennials, bulbs and grasses. Special emphasis on the conservation & promotion of South African Tulbaghia from our NCCPG National Collection®.

PENLAN PERENNIALS - Tel/Fax 01239 842260
Wern Rhos Newchapel Boncath SA37 0EN
Retail, Mail Order Specialists, Online Webshop, Peat Free, Organic, Aquatic, Marginal and Bog Plants, Waterlilies, Hardy Geraniums, Ferns, Grasses, Shade & Woodland Perennials. Free online catalogue.
You may also be interested in :