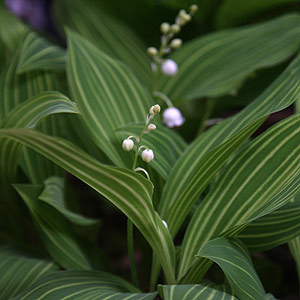 Variegated Lily of the Valley
If you are looking for striped leaf Lily of the Valley plant then you are after Convallaria majalis variegata.
Pictured right, this is the variegated Lily of the Valley growing in containers in our garden.
Wonderful striped leaves make this an excellent choice for growing in a container or as a filler with dramatic foliage in the shaded garden border.
Finding it for sale in the UK can be a little tricky however it is often offered at garden clubs and plant fairs, generally in spring when it is in flower.
Often sold as Convallaria majalis ' Albostriata' variegata the leaves are striped with a golden creamy colour. The classic little white bell flowers are fragrant and if you are lucky the plants may form small red berries. This is a species that spreads mire slowly that the normal forms, so be a little patient. Plant will revert to green foliage at times and these leaves should be removed. Best purchased as pips if you can find them.
Planting
If you can buy 5 - 10 pips at one time you can establish a nice clump of Convallaria majalis variegata fairly quickly. Care is the same as other varieties.
Some gardeners like to pot the pips when they first get them and give them time to establish in a container before planting out the following year.
We like to lightly mulch with some well rotted compost or leaf mould in early winter and add a little potash at the same time. When the new growth first appears we water with a liquid seaweed fertilizer.
Try planting between hostas for a nice effect.
You may also be interested in :