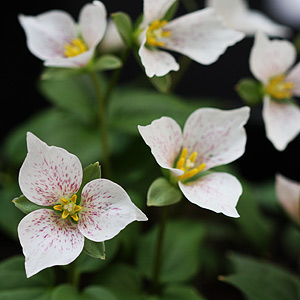 Trillium Plants and Bulbs
If you have a garden with a little shade, and you have some reasonably good soil, then Trilliums could well be the plant for you. Both the species and the cultivars are fascinating, three leaves and then flowers with three petals give it its name.
You can find delicate small species that grow well in containers and troughs, as well as large species that do demand a little more space in the garden.
Trillium are native to both North America and Asia and are sometimes referred to as 'Wake Robins' they are readily available for sale from specialist growers and nurseries. In the wild, especially in North America some species have become endangered, mostly due to illegal and irresponsible collection by both keen gardeners and nurserymen. In the UK they are sold from reputable growers, all legitimate and with just as much variety, if not more.
The bulbs or rhizomes or can be purchased as mature plants or you could try growing from seed. As with all woodland plants Trillium prefer a part shaded position, even in the UK
A large number of species are available in the UK including :
T. erectum with the common name of 'Stinking Benjamin'
T.grandiflorum is the 'Great White' or simply 'White Trillium', excellent for colder areas.
T.pusillum is the 'Dwarf Wake Robin'
T. recurvatum has the wonderful name of 'Bloody Butcher' also 'PrairieTrillium'
T. cuneatum is known as 'Sweet Betsy', one for warmer areas.
T. chloropetalum is the 'Giant Wake Robin' - stunning and large
T. ovatum is the 'Western White Trillium'
T. flexipes is the 'Bent Trillium'
The best time to buy and plant bulbs is in Autumn while the ground is still warm.
Buying Trillium Bulbs
When you purchase plants you will find them offered either as bare rooted tubers (rhizomes) or as rooted plants (usually in deep pots). The second alternative may be more expensive, however it may also provide better results. The reason is that trilliums are tubers (rhizomes) and they do not take kindly to drying out.
Prices will range from £5 upwards to £20 depending on the species, this relates to, size of the rhizome rarity and the degree of difficulty in propagation.
Trillium Care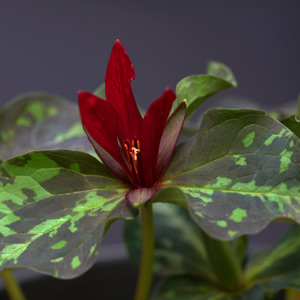 A woodland plant and will grow well in the UK, most trillium are originally from North America and some are from Asia, but they do well here in the UK.
A semi shaded position in a humus rich well drained soil is best. Dig in lots of well rotted compost, rotted leaf litter etc. Keep moist and be patient, Trillium can take a long time to flower.
Plants are best left undisturbed as they seem to resent being moved. Well worth the effort and the wait. Remember that trilliums are rhizomes not bulbs, so when purchasing, make sure that the rhizomes are not dried or shriveled.
Trillium erectum and Trillium chloropetalum are two of the more forgiving species, so if you are new to the world of trillium they are a good place to start.
Trillium Propagation
Trilliums may be propagated from seed or by division of established clumps. If you are new to the genus be aware that from seed these wonderful woodlanders may take 5 - 7 years to flower.
If you are considering collecting seeds from garden plants remember that natural pollinators may not be present so be prepared to hand pollinate using a clean brush or even a finger tip. We have been growing trilliums for several years and pictures presented are form our own garden.
Trillium Summary
Over 50 species from both Asia and North America
Some species are hardier than others.
Slugs and snails are the major pests and problems.
Plant Trilliums when dormant in autumn to winter
Top dress with leaf mold or a layer of organic mulch / compost each year.
Trillium Plants and seeds for sale in the UK
BALI-HAI MAIL ORDER NURSERY - phone: 00442828885289
42, Largy Road city: Carnlough, Ballymena Co.Antrim BT44 0EZ
Hosta specialist with over 1100+ varieties for sale. 100 Agapanthus , 25 Phormium, 80 Crocosmia, 42 Rhodohypoxis, plus Trilliums and many more.
PENLAN PERENNIALS - phone:/fax 01239 842260
Wern Rhos Newchapel Boncath SA37 0EN
Retail, Mail Order Specialists, Online Webshop, Peat Free, Organic, Aquatic, Marginal and Bog Plants, Waterlilies, Hardy Geraniums, Ferns, Grasses, Shade & Woodland Perennials.
You may also be interested in