Corydalis varieties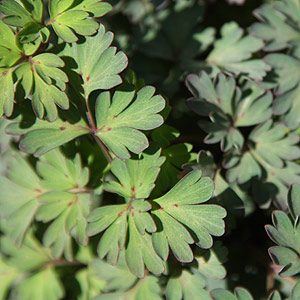 A wonderful shade loving plant Corydalis are a relatively large genus with over 400 species with many species as well as cultivars available for sale in the UK. The majority of garden varieties come from China through Tibet and Nepal, however some are also from Africa.
Characterised by ferny foliage (pictured right) and tubular flowers they grow well in a woodland situation in a humus rich moist soil. Corydalis lutea with its crested or spurred yells flowers from spring to autumn will form a tight clump over time. The golden yellow flowers above the green foliage are a highlight. The cultivar Corydalis solida 'George Baker' has pale red to salmon pink flowers held up above the foliage other C.solida cultivars include 'purple beauty' with much darker flowers as indicated by the name.
We think the real star is the blue flowering Corydalis flexuosa, wonderful pale blue flowers held above a blue green foliage.
Corydalis curviflora var. rosthornii 'Blue Heron' is a relatively new release with electric blue flowers over the blue grey foliage. Brilliant in the woodland setting.
The creamy white flowering Corydalis malkensis is an excellent species if you can get it. A wonderful display of flowers and foliage in spring before it pulls up stumps and hibernates for 9 months, only to come back as a slightly larger clump.
Grow corydalis close to a path, where both its flowers and foliage can be appreciated, a large clump can also look spectacular.
Growing conditions and Care
The simple answer on how to grow these wonderful shade loving plants is that all corydalis like a humus rich moist but well drained soil in dappled shade.
They grow well beneath deciduous trees and can also be grown in troughs containers and pots. Water well in early spring with some seaweed fertiliser mixed with worm castings. A little top dressing once they have died back with well rotted compost will be beneficial. The tuberous rhizomes of larger clumps can be divided either in early spring or autumn. Other than that corydalis require very little care. Corydalis ambigua and Corydalis turtschaninovii (syn Corydalis yanhusuo?) are both purported to have medicinal benefits.
Corydalis plants are available for sale fro the following nurseries
TOUCHWOOD PLANTS - Carrie Thomas Tel 01792 522443
Postal Address 4 Clyne Valley Cottages, Killay, Swansea, SA2 7DU
Unusual, rare and cottage garden plants. S eed lists, also plants for sale.
SPECIAL PLANTS - Tel: 01225 891686
Greenways Lane, Cold Ashton, Chippenham, Wilts SN14 8LA
Includes: Corydalis nobilis, Corydalis ochroleuca, Corydalis ophiocarpa.
Other Information and Shade Loving Plants