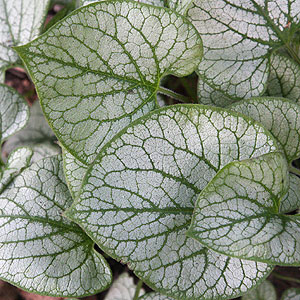 Brunnera
Brunnera are a woodland plant grown mainly for their foliage. A tough plant and can be a great filler in the garden it is mainly cultivars of the Brunnera macrophylla that we see for sale.
In the UK they are a bit of a non event until spring, and then all of a sudden they burst into life, wonderful foliage, and gardener suddenly remmember why they planted them.
An excellent clump forming perennial that make a great ground cover plant in shaded areas. Cultivars such as King's Ransome, Looking Glass and the ever popular 'Jack Frost' (pictured right) with its wonderful silvery foliage are all popular.
Not all Brunnera have the same foliage appeal, in fact this is one species where hybridisation has lifted the plant from a gardening also ran to a modern favorite. It is these improvements in foliage that have lifted the plant to 'highly desirable'. Some varieties also have white rather than blue flowers such as the populat Bruunnera 'Betty Bowring'.
'Sea Heart' is a recent release which is said to take more humid conditions than others.

Growing and Care
All Brunnera require a humus rich moist soil in a part shaded position to thrive. In these conditions they are easy to care for and other than a little 'tidy up' in late winter they are easy.
Most cultivars will reach around 40cm, it is the foliage that differs.

For example, Looking Glass seems to have more of a silvery green foliage than say Jack frost, Kings Ransome is a 'sport' of Jack Frost and perhaps best described as a silvery golden green in the foliage departmen
Brunnera varieties are available for sale from the following nurseries
NORTHBROOK NURSERY phone: 01202695256
marg@northbrooknursery.co.uk
47 Northbrook Road, Broadstone, Dorset BH18 8HD
Brunnera - Small nursery selling unusual perennials for your garden. Ring for appt.
CLAIRE AUSTIN HARDY PLANTS Hardy Plants
Tel: 01939 251173 - FAX: 01939 251637
Edgebolton, Shawbury, Shropshire, SY4 4EL
PRIME PERENNIALS NURSERY
Llety Moel Rhos-y-garth, Llanilar, Aberystwyth Ceredigion SY23 4SG
Phone: 01974 241505
PENLAN PERENNIALS
Wern Rhos Newchapel Boncath SA37 0EN - Tel/Fax 01239 842260

BROADLEIGH GARDENS
Bishops Hull Taunton TA4 1AE
Phone: 01823 286231 Fax:01823 323646
Includes: Brunnera and many more.......

BLUEBELL ARBORETUM and NURSERY
Annwell Lane Smisby nr. Ashby de la Zouch Derbyshire LE65 2TA Owner: Robert and Suzy Vernon.
Office telephone: *(01530) 413700.