Hellebores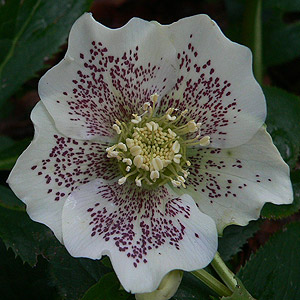 A winter flowering perennial Hellebores are a shade loving plant that grow well in dry conditions, excellent for planting beneath deciduous trees. The colourful flowers in late winter and easy care nature make them a great addition to any garden.
A number of species including the popular Helleborus orientalis and niger are popular, however it is the numerous colourful hybrids available for sale that seem most popular especially in smaller gardens.
Helleborus orientalis hybrids such as the flower pictured right are readily available at selected nurseries and plant fairs.
Hellebore niger is is known as 'The Christmas Rose' and has attractive white flowers. Hellebrus foetidus has dissected foliage and attractive flowers heads on red stems during winter. H. viridis is the green hellebore. Helleborus orientalis are the most popular species with many hybrids readily available for sale from mail order and specialist nurseries.
Growing Hellebores in the UK
With the development of many new Hellebore hybrids over recent years, the home gardener now has access to hellebore varieties that will flower more consistently with a greater range of colours and flower forms than older Hellebores.
Both single hellebores and double, hellebores are available with colours ranging from white through to black, including yellow, red and gray. Hellebores, or the Christmas or Lenten Rose has certainly been developed in recent years. Seedlings, seeds and larger plants are all available to buy online.

Where to grow Hellebore plants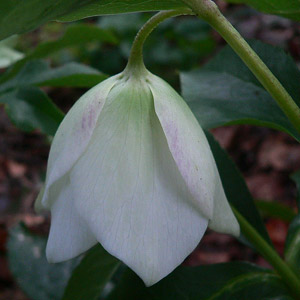 Hellebores are often considered as shade loving plants and whilst they are indeed shade tolerant plants they should flower best in given plenty of light from autumn through to spring and are then given protection from the hot sun during summer.
Hellebores do well underneath deciduous trees, as they are winter flowering they add a lift to the garden at this time of the year. However may struggle to flower well in heavy shade beneath evergreen trees. Care and pruning involves thinning older clumps and cutting back some of foliage in autumn to allow flowers to be displayed at their best when they appear in the winter months.
Hellebore Care
Although Hellebores are generally tough plants and require little care they do require a well drained position in a humus rich soil. Add lots of organic matter and fertilise hellebores with an all purpose fertilizer.
Once established Hellebores are reasona bly drought tolerant.
Hellebores can be fertilised during winter and old foliage can also be cut back at this time.
Yes Hellebores can be grown in pots, we suggest a large pot to allow for the root system to develop and to be kept cool, small pots heat up and dry out.
More Shade Loving Plants
Shade Loving Plants
Winter Flowering Plants
Cottage Garden Plants
Ground Cover Plants
Epimediums
Hepatica
Ferns
Hellebores are available for sale from the following nurseries
ABRIACHAN NURSERIES, 'The Garden on Loch Ness'
Loch Ness Side Inverness IV3 8LA
Tel/fax: 01463 861 232
www.lochnessgarden.com

PENLAN PERENNIALS
Wern Rhos Newchapel Boncath SA37 0EN - Tel/Fax 01239 842260
www.penlanperennials.co.uk

BROADLEIGH GARDENS
Bishops Hull Taunton TA4 1AE
Phone: 01823 286231 Fax:01823 323646
www.broadleighbulbs.co.uk