Thyme Plants - Basic Care and Pruning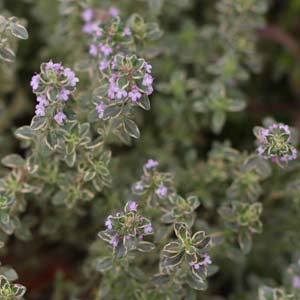 Thyme is a versatile easy care herb that can also be used as a groundcover. Available for sale in a range of varieties in the UK, Thyme is a great aromatic plant for the garden, makes an interesting ground cover plant that is attractive to bees.
Readily are available buy from garden centres it is the varieties from some online nurseries that are sought after.
Different varieties have very different growth habits, popular Thyme varieties or species include thymus vulgaris ( common thyme ) thymus caespititius ( tufted thyme), Thymus x citriodorus Archers Gold (picture right) and thymus serpyllum ( wild or creeping thyme).
Thyme varieties
Widely found in kitchen gardens thyme is best known as a culinary herb and Thymus vulgaris or French thyme is the most widely used and is probably the tallest growing species at around 18 inches.
So besides being used in cooking dishes like lamb and fish what else can a gardener do with thyme ? Lets explore.
Firstly remember that thyme is from Southern Europe, a Mediterranean climate so if you are considering growing it try to replicate the climate and soil conditions. Generally, full sun, fairly dry, defiantly well drained and not to much fertilizer. In the UK you could try growing it indoors, try a pot on a sunny window sill.
In the garden we have established that this is great culinary herb, however thyme can also be used as low growing border plant, a ground cover or even as a filler between paving stones.
How to Grow Thyme
You can easily buy thyme plants at most nurseries and specialist herb farms will have a range of species, however it is always nice to be able to grow your own, so what are the alternative here.
The easiest form of propagation is to divide large clumps, as thyme grows along the ground it sets down roots so it is fairly easy to break down a large clump into smaller plants.
This is best done in spring when the plant is coming into active growth. This is also a great time to transplant, just dig it up and plant it elsewhere, remember the growing conditions, sun and well drained soil. We usually water in with a seaweed solution, as this seems to promote root growth.
What about growing thyme from seed, if you wish to plant seed in a cold frame in early spring, it should germinate in around 14 days, allow it to harden off and get to a good size before transplanting.
Care, Fertilizer and Pruning of Thyme
The only really problems in the UK is to much water , not enough warmth and frosts. So if we create the well drained position in full sun we can try a few tricks to crea te a little extra warmth, some small light colour pebbles placed beneath the plant will allow a little extra warmth to be reflected, the pebbles will also hold a little extra warmth over night.
What about lemon thyme (thymus citriodorus) , same conditions as all of the others, and yes it makes a great container plant. And as a ground cover try creeping the Thyme Thymus serpyllum
SUMMARY
Sunny position
Well drained soil
Grows well in the garden or container
Pruning Thyme
Taller varieties can get a little woody, so prune back lightly immediately after flowering and then again in late summer. Do not prune back into old wood, thyme will often not reshoot from old woody stems
Some of the lower growing groundcover types will not need pruning.
Thyme plants are available for sale online from specialist herb nurseries listed.
NORFOLK HERBS - Tel: +44 (0)1362 860812 Fax: +44 (0)1362 860812
Norfolk Herbs are growers of naturally raised culinary, medicinal and aromatic herb plants for wholesale, retail and mail order supply together with Bay Trees, Scented Pelargoniums and Hand Thrown English Garden Terracotta to give stature, colour, scent and flavour to a window-sill, patio, garden or landscape
Herbs for Sale by Type or variety