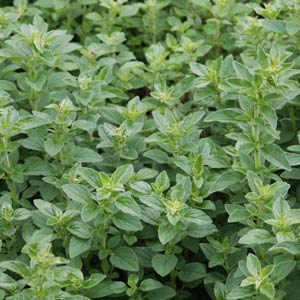 How to grow Majoram
Another easy to grow herb is the Marjoram plant or Oregano ( pictured right is Origanum vulgare susp viride or Winter sweet-majorum). Yes its used in cooking but makes an excellent ground cover herb as well.
A neat clumping habit and a fairly dense growth habit make it well suited to multiple uses in the kitchen or cottage garden.
Lots of recipes use marjoram and it is also used for its essential oils which are extracted.
Readily available for sale from specialist herb nurseries in the UK.
Growing conditions and care
Any well drained humus rich soil seems to do. Lots of sun, yes it is another herb from the mediterranean, marjoram will grow from 40 - 90 cm, cut back regularly to keep bushy. This is another herb that grows well in containers and is very attractive to bees when in flower. You can propagate by dividing established clumps in early spring.
We water new plants in well with a liquid seaweed fertilizer and tend not to do much else unless the plant is looking a little tired. A little water in summer if you are lucky enough to have a few hot days in row.
Growing in pots or containers
Majoram or Oregeno is a very easy plant to grow in containers, use a deep container and a good quality potting mix. Keep moist and in full sun, protect from frosts.
Majoram are available for sale online from specialist herb nurseries listed.
NORFOLK HERBS
Tel: +44 (0)1362 860812 Fax: +44 (0)1362 860812
Norfolk Herbs are growers of naturally raised culinary, medicinal and aromatic herb plants for wholesale, retail and mail order supply together with Bay Trees, Scented Pelargoniums and Hand Thrown English Garden Terracotta to give stature, colour, scent and flavour to a window-sill, patio, garden or landscape
Herbs for Sale by Type or variety