Silver Birch Trees (Betula)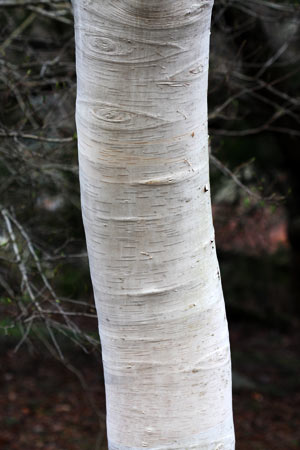 Prized for the magnificent ornamental trunks the Silver Birch Tree (Betula varieties) are a popular feature tree, readily available for sale from nurseries in the UK, smaller trees are sold bare rooted in the winter.
A number of varieties are popular, all with slightly different characteristics, some with different bark, other with weeping growth habit.
Betula pendula (Silver Birch) including Betula pendula 'Tristis' and Betula pendula Youngii have been a favourite with landscapers for many years. The fantstic white trunks of birch trees such as Betula jacquemontii (picture right) being a feature in many gardens.
You will find a variety of Silver birch trees for sale including weeping forms. Birches are a small to medium sized tree and species suitable to most gardening applications are readily available.
Betula pendula 'Tristis' is a very attractive upright deciduous tree with branches that are pendulous near the tips. Beautiful silver trunks that improve with age are an added attraction. Will reach 10-15m depending on conditions and is best suited to larger gardens.
Birch tree varieties are available for sale from the following specialist tree growers
THE ROMANTIC GARDEN NURSERY - Tel 01603 261488 Fax 01603 864231
The Street Swannington Norwich Norfolk NR9 5NW
Specialist nursery holding a large stock of Topiary, Ornamental Standards and Specimen size Shrubs and Trees. If you are looking to add formality or immediate impact to your garden then visit us and be inspired. All plants can be delivered.
BLUEBELL ARBORETUM and NURSERY - Office telephone: *(01530) 413700.
Annwell Lane Smisby nr. Ashby de la Zouch Derbyshire LE65 2TA Owner: Robert and Suzy Vernon.
Opening hours: *March to October 9am. to 5pm. (Sundays 10.30am to 4.30pm),. November to February 9am. to 4pm. (Closed on Sundays)
Specialist mail order and retail nursery that grow and sell a huge variety of rare and unusual trees, shrubs, grasses, and herbaceous!
CHEW VALLEY TREES- Tel: 01275 333 752
Winford Road Chew Magna Bristol BS40 8HJ
Tree nursery selling top quality specimen and ornamental bare root and container grown trees, shrubs, hedging and fruit trees. Available wholesale and retail nationwide.
Includes: betula lutea, betula pendula (silver birch), betula utilis, betula papyrifera and others.
You may also be interested in