Betula utilis Jacquemontii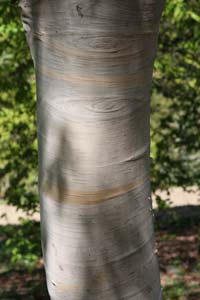 Betula utilis Jacquemontii (Himalayan Birch) is a beautiful specimen tree with an outstanding white trunk and lovely papery bark that will make an impact in any garden.
Planted as a single specimen tree, used to line a driveway or planted in small groups of 3 or more this medium sized tree is a stunner.
B. utilis var. jacquemontii 'Silver Shadow' and B. utilis var. jacquemontii 'Grayswood ghost' are two named cultivars also available for sale.
We think B. utilis Jacquemontii just might be the best birch tree for bark that you can find.
The bark peels away each season revealing a lovely patterned smooth trunk (see picture roght). So called 'multi stem' specimens are available and yes they look great as well, we however prefer the classic simplicity of a nice single stemmed form.
Growing Conditions are Care
A humus rich moist soil and a position with some protection from hot winds or coastal winds will be ideal.
These trees require little care once established. Water in well and provide adequate water until the tree is established. May require staking when young.
Betula utilis Jacquemontii is available for sale from the following suppliers
CHEW VALLEY TREES
Winford Road Chew Magna Bristol BS40 8HJ
Tel: 01275 333 752
Tree nursery selling top quality specimen and ornamental bare root and container grown trees, shrubs, hedging and fruit trees. Available wholesale and retail nationwide
BLUEBELL ARBORETUM and NURSERY
Annwell Lane Smisby nr. Ashby de la Zouch Derbyshire LE65 2TA Owner: Robert and Suzy Vernon.
Office telephone: *(01530) 413700.
Specialist mail order and retail nursery that grow and sell a huge variety of rare and unusual trees, shrubs, grasses, and herbaceous!
You may also be interested in