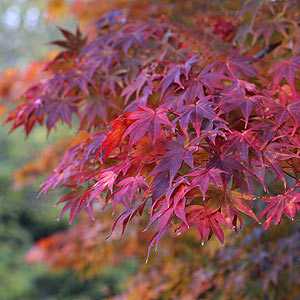 Acer palmatum 'Osakazuki' - Japanese Maple
The outstanding autumn tones of the Japanese Maple, Acer palmatum 'osakazuki' (picture right) make this another wonderful Autumn foliage tree, widely used as a feature in the garden. The brilliant red foliage alone makes it worth a position in the garden.
Foliage colour is an attractive green (see picture below) that turns a brilliant orange - scarlet red during Autumn ( see picture right )and has probably the best autumn color of any of the Japanese maples.
Acer palmatum osakazuki will reach a height of 5 - 6 m in ideal conditions with a similar spread and prefers a sunny position with protection from the hot afternoon sun and winds, in a well drained soil.
Care
Like most maples this is relatively hardy once established and actually needs very little care. The occasioanl light pruning to maintain structure, if required, although rarely needed. Plants are available for sale bare rooted during winter, or as potted specimens during other times.
A position where drainage is good is essential, protection from hot drying winds and hot afternoon sun is also important.
Requiring very little care once established, planting and site selection are the two important aspects of care.
Prepare the soil well digging in some well rotted compost and aged manure.
Stake the young plant and water in well with a liquid seaweed fertiliser.
Acer palmatum 'Mikawa Yatsubusa' will require no pruning and is an excellent choice for containers.
Planting
When planting, dig in some well rotted compost and manure 3 weeks before, plant and stake, water in well with a liquid seaweed emulsion. Keep moist for the first year or two, once established these trees need little extra care or pruning other than the removal of any dead or diseased wood.
Pruning
Any pruning of Acer palmatum 'Osakazuki' should be carried out when the tree is dormant in winter.
You may also be interested in :