Scilla Bulbs and Flowers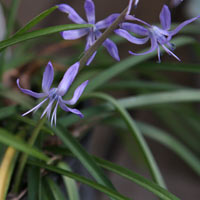 Scilla are a group of about 50 bulbs often referred to as 'squill'. Most flower in late winter to spring, and prefer a humus rich well drained soil. Best suited to a woodland situation scilla do well beneath deciduous trees.
Scilla hohenackeri (picture right) is an early flowering species with brilliant blue flowers in late winter. Scilla mischtschenkoana 'Tubergeniana' flowers a little later.
Scilla sibirica is even later and with its nodding blue flowers is a must for planting beneath deciduous trees.
S. greilhuberi, S. peruviana S. lilio-hyacinthus,S. messeniaca, S. mesopotamica,S. bifolia taurica, S. siberica Enem,S. caucasica,S. vvedenskyi and S. verna are others
OTHER FLOWERING BULB RESOURCES
You may also be interested in :