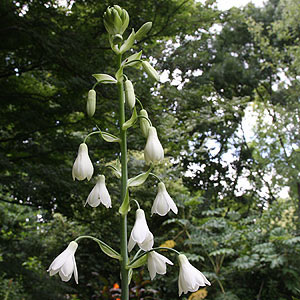 Galtonia
Although Galtonia Candicans (pictures right) is perhaps the most popular species of this group of summer flowering perennial bulbs grown in the UK, some other species are of interest as well.
Galtonia are originally from South Africa and do require a well drained sunny position to thrive.
Recently Galtonia have been renamed to Ornithogalum so remember that we have ornithogalum candicans (syn. galtonia candicans) they are the same.....
Galtonia viridiflora with its pale green waxy flowers is well worth a spot in the sunny border as is Galtonia regalis.
Growing Galtonia candicans
The popular G candicans is one of the easier species to grow, lovely fragrant white flowers in early summer are long lasting. This is a tall plant reaching around 1m. Like all galtonia a well drained position is essential as these bulbs are used to a dry winter and wet summer. Sun is also essential if you want the best flowers, in fact galtonia may refuse to flower in a shaded position. Foliage is a light to mid green and should be left until it has died back in winter.
Plant in the border remembering that they are tall, clumps of 6-10 bulbs are a good start as the massed display of large white flowers can be impressive. You can also grow G candicans in large pots. Snails and slugs can be a problem so take the usual precautions.
Galtonia candicans and other species are available for sale from the following nurseries
BROADLEIGH GARDENS
Bishops Hull Taunton TA4 1AE - Phone: 01823 286231
Includes: Galtonia candicans, Galtonia princeps, Galtonia Viridiflora.
www.broadleighbulbs
Fuchsia plants are available fro sale from the following suppliers
CRÛG FARM PLANTS - Telephone: (+44) 01248 670232
Bleddyn & Sue Wynn-Jones,
Griffiths Crossing, Caernarfon, GWYNEDD, LL55 1TU
www.crug-farm.co.uk
MR NURSERIES - Phone/Fax 01278 456271
67 Kendale Road Bridgwater Somerset TA6 3QE
www.mrnurseries.co.uk
PRIME PERENNIALS NURSERY - Phone: 01974 241505
Llety Moel Rhos-y-garth, Llanilar, Aberystwyth Ceredigion SY23 4SG
www.prime-perennials.co.uk
GANDYS ROSES LTD.,
North Kilworth,Lutterworth,LEICS.LE17 6HZ.
www.gandys-roses.co.uk
WEASEDALE NURSERIES Ltd
Newbiggin on Lune, KIRKBY STEPHEN, Cumbria, CA17 4LX UK
Telephone +44 (0)15396 23246 * Telefax +44 (0)15396 23277
www.weasdale.com
HALCYON PLANTS - Phone 01267 281031
Plas y Maes Trawsmawr Carmarthen SA33 6NH
www.halcyonplants.co.uk