Betula pendula 'youngii'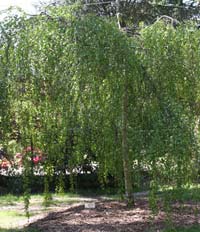 How about a tree called 'Lady of the Woods' or Betula pendula 'youngii' . This is Young's weeping birch and it is an elegant weeping tree that looks enchanting as the long weeping branches hang down and move in the breeze.
We use this mainly as a 'stand alone' specimen although we have seen them planted in a line and must admit they looked very graceful.
Look for a strong main trunk. Try planting Betula pendula 'youngii' in the middle of a grassy lawn, or maybe in the garden border. The branches will eventually reach right down to the ground, so nothing much will grow under these.
They will reach around 6-8m depending on conditions.
Attractive white bark in winter are another feature.
Growing Conditions are Care
A humus rich moist soil and a position with some protection from hot winds or coastal winds will be ideal.
These trees require little care once established. Water in well and provide adequate water until the tree is established. May require staking when young.
Betula pendula 'youngii' (Youngs Weeping Birch) is available for sale from the following suppliers
CHEW VALLEY TREES
Winford Road Chew Magna Bristol BS40 8HJ
Tel: 01275 333 752
Tree nursery selling top quality specimen and ornamental bare root and container grown trees, shrubs, hedging and fruit trees. Available wholesale and retail nationwide
BLUEBELL ARBORETUM and NURSERY
Annwell Lane Smisby nr. Ashby de la Zouch Derbyshire LE65 2TA Owner: Robert and Suzy Vernon.
Office telephone: *(01530) 413700.
Specialist mail order and retail nursery that grow and sell a huge variety of rare and unusual trees, shrubs, grasses, and herbaceous!
You may also be interested in