Japanese Windflowers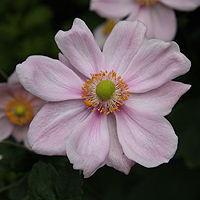 Anemone hupehensis var. japonica is the windflower, tall stately flowers on long stems rising about green foliage. Flowering in late summer to autumn these are a hardy perennial with flowers ranging from white through to pink and deep pink.
Double flowers, single flowers and lots of named cultivars including 'pamina' a lower growing cultivar.
The one we know well is the white flowering, Anemone japonica 'Honorine Jobert' ( Anemone x hybrida ), Andrea Atkinson is another white flowering plant.
Anemone japonica Queen Charlotte is a pink flowering semi double, we think one of the loveliest of all of the pink flowering wind flowers.
Care and growing conditions
As for growing conditions, a sunny position in a humus rich well drained but moist soil and you will have few problems. Japanese windflowers, as they are know also grow well in part shade. They will quickly form a clump and can be a little bit of a bully in the garden if left unchecked, nothing that a garden fork can't fix fairly easily.
Japanese Windflowers make an excellent plant for the border or large container. Flowering late in spring and with either white of pink flowers they provide an excellent splash of colour.
Generally available for sale during winter as bare rooted plants.
You may also be interested in