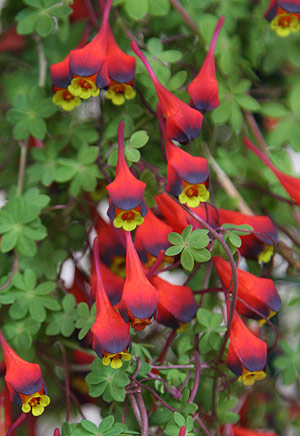 Tropaeolum tricolor
The tubers are small, the flowers are small, however Tropaeolum tricolor is a climber that certainly has impact. For a start the growth from dormancy is fast, secondly the flowers, although small appear in masses, and thirdly the flowers are fascinating.
One of the real wonders is that this is a winter flowering species adding color at a much needed time of the year. With tri colored flowers Tropaeolum tricolor really does add a touch of the tropical look to hanging baskets.
From the lower mountain areas of Bolivia and Chile Tropaeolum tricolor grows from tubers and is a climbing plant. Many gardeners choose to grow this is a hanging basket where it can climb up the supports and them flow back down.
It is a tender plant, so indoors in the UK winter, however if grown on an enclosed patio, it is also remarkably easy. The flowers are small but do appear in masses and are brightly colored.
Tropaeolum tricolor Care
Try growing in a hanging basket or in a container, a well drained but moist growing medium. During the growing season fertilise with a liquid seaweed fertilizer every two weeks.
Hold back on water during dormancy and avoid frosts.
Given the right environment Tropaeolum tricolor can reach 4m in height, so you will need a trellis or some form of support. They are a little fragile so put the support in place before planting.
Tropaeolum tricolor Propagation
The small tubers can be divided in summer however this will take some patience as they are a little slow to multiply. Seeds are available however we have found that they need to be soaked for a few days to soften the outer coating. After this they can be planted into a mixture of compost, loam and sharp sand. So free draining and moisture retentive.
Young Tropaeolum tricolor seedlings need to handled very carefully so consider planting seeds in individual small pots.
You may also be interested in
Orchid Resources for the UK