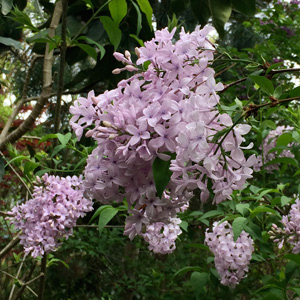 Syringa persica
For those with smaller gardens shoo would love a lilac, Syringa x persica could well be the best solution. Grown widely in the UK since the 1700s it is still an excellent plant, well worthy of a position in the garden.
A small shrub to around 2m in height, Syringa persica is grown mainly for the fragrant lilac flowers that appear in terminal panicles from spring to early summer. Also known as the Persian Lilac this is actually a hybrid Syringa x laciniata and Syringa. afghanica.
So if you are looking for the lilac that is regarded by many as the best of all, this is the one. Fragrant flowers, attractive foliage and an ideal plant for a prominent position in the spring border.
Also look for the white flowering form Syringa x persica 'alba'.
Plants of a good size are available for sale at around £7 -9 from online suppliers.
Care
Best is a sunny position and in a humus rich but well drained soil this is actually a fairly hardy plant and will cope with a range of soil conditions, with a slightly alkaline soil being best.
This is not a lilac that requires much pruning at all. You can remove the spent flower heads if you must, and you can prune back to rejuvenate older plants.
Rejuvenation is the same as with many multi stemmed plants, remove 1/3 of the oldest canes one year, and repeat every second year until its completely done.
Syringa x persica is available for sale from the following nurseries.
THE GOBBETT NURSERY - Contact Gordon and Chris Link
Farlow, NR Kidderminster, Worcs, DY14 8TD
Includes: Syringa josiflexa, syringa vulgaris, syringa prestoniae, syringa dwarf varieties, syringa species and hybrids, syringa hyacinthiflora.