Masdevallia Orchids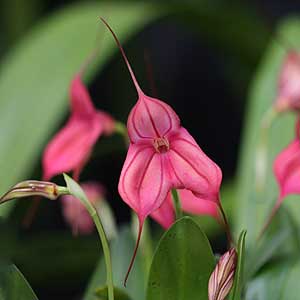 Masdevallia Orchid species and cultivars are a cool climate orchid that will grow well in the UK. In a greenhouse or indoors these are a fairly easy orchid given just a little humidity.
They are a relatively small growing plant and with proper care can be grown indoors or in the conservatory in the UK and with such attractive flowers they are a great addition to the orchid collection.
Species include Masdevallia veitchiana, coccinea, nidifica and infracta however it is the many cultivars similar to Masdevallia 'Pink Stripes' pictured right..
Masdevallia Orchid Care
Masdevallia are a hardy orchid, and generally are a cool growing orchid, however with such a range of species growing instuctions given here are general.
Try clean or filtered water and water when the potting mix starts to dry out. Humidity of 70% is ideal but make sure that air movement is allowed for.
Where to grow Masdevallias
We suggest filtered or semi shade in a warm humid position and the usual well drained orchid bark potting mix perhaps mixed with some sphagnum moss to retain moisture.

Repotting Masdevallia Orchids
As the potting mix needs to stay moist for these orchids, it does tend to break down fairly quickly, when this happens drainage can become a problem. We recommend repotting Masdevallia every year or every second year.
MT BEENAK ORCHIDS
Specializing in Masdevallia Orchids for cool climates.
Yes we send to the UK. Order size limits may apply.
www.mtbeenakorchids.com.au
More Orchid Resources for the UK