Arisaema tortuosum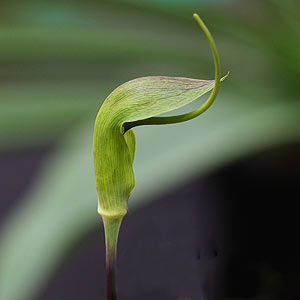 With its long whip like spadix as a distinctive feature Arisaema tortuosum is a mid to later flowering species. It can be a very tall growing species, well over 1.5m, however usually around 1m in our garden.
It is the long spadix that rises from the flower a little like a 'long whip' that give this species its name. The lower stem is a mottled pink and brown, foliage is divided and attractive in itself.
Although the flower itself is a little plain, the green hood tinged with red combined with the spadix make it a most interesting plant to grow in a container.
Arisaema tortuosum Care
Another easy species to grow, Arisaema tortuosum do well in both the ground and in containers.
Best in woodland conditions of dappled shade in a humus rich moist but well drained soil. We grow ours in the garden bed beneath deciduous trees, so dappled shade and well drained to even dryish soil. We do top-dress with rotted compost in winter, and we do give it the occasional watering with our favourite liquid seaweed fertilizer. However it really is a very low care plant.
Propagation of Arisaema tortuosum is by division of bulb offsets every 3 - 4 years, or from seed. Seeds will benefit from stratification before planting out.
You may also be interested in