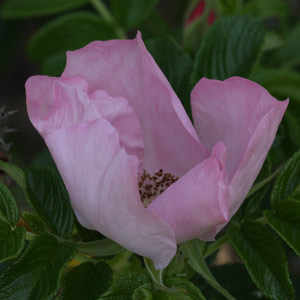 Rosa 'Fru Dagmar Hastrup'
Rosa 'Fru Dagmar Hastrup' is a Rugosa Rose with attractive delicate fragrant pink blooms and thorny stems. Originally bred in Denmark. A nice compact grower the clove scented fragrance is why you would grow this rose.
The rose hips left after summer flowering make an attractive addition to the winter garden. Tends to grow into a mound 1m by 1m (3ft x 3ft)
Disease resistant, not fussy about soil conditions, easy to prune and an excellent rose for a low hedge. The distinctive ruffled foliage of the rugosa rose are an added attraction. Rosa 'Frau Dagmar Hastrup' can be used in cottage garden plantings as well.
Care
Plant in a sunny position, a minimum of 6 hours sun a day is recommended for roses, in a well drained soil and provide support for young plants. Before planting dig in some well rotted compost and decomposed animal manure, preferably 2-3 weeks before planting, this allows any 'heat' in the manure or compost to dissipate. Water in well well after planting and mulch to provide a cool root run.
Prune in early spring cutting back any old dead, diseased or damaged wood to start with. Remove canes that cross and open up the centre to allow good air movement, this helps reduce disease. Remaining canes can be cut back by 1/2 to an outward facing bud.
You may also like these roses