Climbing Roses - We look at some of the best for the UK
Hardy climbing roses are some of the best roses for the UK garden. Similar to most others except for growth habit climbing roses are usually repeat bloomers with large flowers. As for colors, red, white, pink, apricot you name it these roses come in all of the best colors.
How much should you pay ? This depends on the actual rose, some are not as cheap as others, so between £8 and £16, sometimes less at the end of the season when they are on sale.
We guide you through some of the growing conditions needed for rose climbers are well as some tips on uses, pruning colours and hardy varieties. Many ordinary garden roses can actually be grown as climbers. We also list our Top 10 or Best climbing roses for the UK including yellow, white and red climbing roses for the UK garden.
Climbing roses differ from what we call rambling roses in a number of ways, climbing roses generally have larger anymore complex flowers, they may also be repeat flowering and are less leggy, more compact growth. In a position with adequate sun (preferably 6+ hours of sun a day).
Selecting the right variety for your garden
Some varieties will be better for some situations than others, this has to do with two factors, size and the amount of shade they take.
Different varieties have different habits, some a very vigorous and require lots of space while the climbing roses are more compact.
Landscaping Uses for climbing roses
Usually vigorous and hardy 'sports' of bush roses, Climbing Roses are a great feature in any garden. Roses such as the David Austin 'Constance Spry' can be grown in a range of situations and planting and growing positions do vary including:
arbors
against walls
around doorw ays
over garden arches
on a garden trellis
on an open framed obelisk
Top Ten Climbing Roses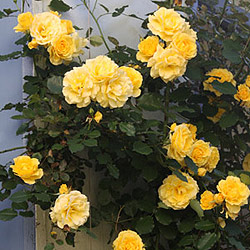 Gold Bunny (Gold Badge)
A Meilland Rose. This is a repeat bloomer, clear yellow flowers, dark green foliage. The substantial flowers seem to last well, its one of our favourite yellow climbing roses
Pierre de Ronsard and Red Pierre
Red Pierre is the red version and Pierre de Ronsard the pink version of this famous climber. Named after the French Poet Pierre de Ronsard, this climbing rose is bred by Meilland a relatively small climber, but lots of flowers over a long period. Flowers are creamy white to pink, large and full (lots of petals). Pierre de Ronsard should be pruned back hard in the winter. Deadhead this rose and in the right climate you will have flowers for 8 - 9 months of the year. Pierre de Ronsard can stand a little shade, but thrives in full sun, mulch to keep the root run cool.
Claire Austin Climber
One of the best white climbing roses we have grown has turned out to be 'Claire Austin'. Yes it's a 'David Austin' rose named after his daughter 'Claire'. It has really nice creamy white cupped flowers with strong perfume. The 'Claire Austin Rose' seems to take well to being pruned and proved to be disease free in our garden. We have grown it on a trellis against a side wall, it would be equally happy growing on an arch, or on a pillar.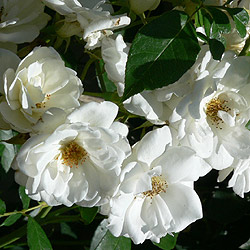 Iceberg Climber
Another excellent white climbing roses. Masses of white flowers, not a lot os scent but all the great characteristics of the Iceberg Rose

Westerland Climber
A Kordes rose. Repeat blooming, fragrant climbing rose with apricot/gold flowers, dark green foliage grows to 3m
Celine Forestier
Cream to pale yellow, fragrant vigorous climber
Sutter's Gold
Long yellow buds and large blooms with a light fragrance.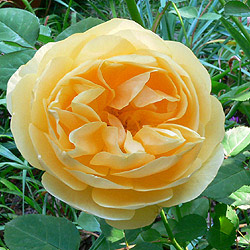 Graham Thomas
Golden yellow flowers, this is a David Austin Rose. Graham Thomas is a repeat blooming, disease resistant rose. Lightly scented and a great hardy climbing rose that copes well in the heat.
Abraham Darby
Another David Austin climbing rose that will grow to 3m as a climber. Large flowers, fragrant, grows 2-3m. Apricot Pink flowers. Disease resistant and hardy like most of the David Austin Roses and nice glossy foliage.
Constance Spry
A pink fragrant David Austin climbing rose one of his first roses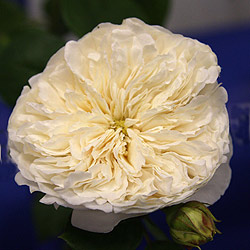 Sombreuil
An old fashioned climbing rose that will grow to 2m. Very large pure white flowers, fragrant, repeat blooming, vigorous grower.
Golden Showers
Deep Golden Yellow Flowers
Papa Meilland (climbing)
With a strong upright habit, nice perfume and deep red flowers, this is a classic.
Dublin Bay (climbing)
Perhaps a more shrubby type of climber, but great where you want a bit of height as well. Beautiful clusters of fragrant blood red flowers and a repeat flowering habit as well.
Climbing Etoile de Holland
This one has been around since 1931, very fragrant, red semi double, open flowers.
Mme Isaac Pereire
A fairly vigorous shrub that can be used as a climber, masses of wonderfully perfumed flowers, however it does have its problems. It is subject to blackspot and the cane swill require support. A good rose for an open airy position which helps prevent the fungal diseases.
You May Also Like