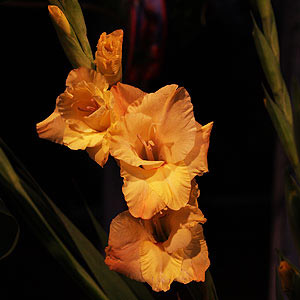 Gladioli
Gladioli are a corm or bulb grown for flowers and although seen sometimes as 'old fashioned' they are indeed a wonderful easy care plant, fantastic for cut flowers.
You can grow these spectacular flamboyant flowers in pots, or in a well drained position in the border, where ever you choose make sure that they can be seen an appreciated.
The large flowering modern hybrids we grow are known as "Grandiflora" hybrids and these are usually related to the species G. dalenii .
However lots of both winter and summer flowering species with interesting flowers are also available.
Best time to plant summer flowering gladioli corms is March to April.
Gladioli Care
Gladioli prefer a humus rich well drained soil in a sunny position. Bulbs can be lifted once flowers have died back in autumn and stored in a cool dry place until early spring.
In containers use a little crock in the bottom of the pot to ensure good drainage, fill the container to around 20cm of the top.
Plant the corms at this depth and then fill the pot with potting mix. Gladioli need to planted this deep to prevent them falling over, however with the larger varieties you may still need to stake them.
Water in well with a liquid seaweed fertilizer and place the containers in a warm sunny position, indoors or outdoors.
In the garden follow a similar planting regime, except you will need to wait until frost are over and will not need the crock, however good drainage is essential. Try staggering the planting so that flowering is sequential over a few weeks. Some growers plant at different depths, 10cm, 15cm and 20cm to achieve staggered flowering.
Over wintering Gladioli
In containers simply place the container in a cool shed over winter, outdoors in the UK you will need to lift the corms and store in a cool dry position over winter.
You will see that a new corm forms on top of the old corm, you can usually just twist this off, or cut with a knife. Old corms will re flower, but new corms are more floriferous and healthier.
Gladioli are available for sale from the following growers
PRIME PERENNIALS NURSERY
Llety Moel Rhos-y-garth, Llanilar, Aberystwyth Ceredigion SY23 4SG
Phone: 01974 241505
Specialist mail-order nursery. Unusual perennials, bulbs and grasses. Special emphasis on the conservation & promotion of South African Tulbaghia from our NCCPG National Collection¨∆.
TOUCHWOOD PLANTS
Carrie Thomas tel 01792 522443
Postal Address 4 Clyne Valley Cottages, Killay, Swansea, SA2 7DU
Unusual, rare and cottage garden plants. Ext ensive seed lists, also plants for sale. Specialist in aquilegias (granny's bonnets, columbines); including coloured leaf forms, scented ones and red and yellow doubles.
BROADLEIGH GARDENS
Bishops Hull Taunton TA4 1AE
Phone: 01823 286231 Fax:01823 323646
Mail order bulb specialists Tulips, Crocus, Narcissus, Iris, Colchicum, Lilium, Scilla and many more.......
You may also be interested in