Geranium Plants

Often seen as a slightly 'old fashioned' plant, geraniums are in fact a wonderful hardy addition to the garden. Growing well in the border, in a cottage garden setting and also happy in containers geraniums are an easy care colorful and sometime scented addition to any garden.
Geraniums come in a range of forms including Regal , Scented , Trailing , Zonal, Hardy Geraniums and F1 types as well as low ground covers to taller upright species. And the cheapest way to buy them for mass planting is to look for plug geraniums
Geranium Care
Geraniums generally require a sunny position in a humus rich soil, although some species of geranium such as Geranium macrorrhizum and Geranium aristatum do well in part shade. Available for sale from Mail Order and Online Plant Nurseries.
One of the major misconceptions is that geraniums thrive on neglect, and although they do survive, for a really healthy plant and a good display of flowers a little care is required.
Pruning is really the major task, and this is easy. Remove old folaige and spent flower stems to help promote a second and even third flush of flowers. As autumn come around, prune back 1/3rd (or more if needed), you can use geranium cuttings to propagate new plants.
So if its a container in a sunny position on a patio, a window box or a collection in the cottage garden give geraniums a go, a little care and they will reward you with flowers from spring to autumn.
Geraniums are drought tolerant long flowering and actually make great weed control plants. With flower colors ranging from white through to deep red they are also colorful.
Geranium Varieties

Double geraniums are very popular and some species such as Geranium plenum, Geranium oxonianum and Geranium pratense all offer a range of cultivars in double flowering forms.
Geranium plenum album, violaceum and the cultivar 'diamond star' are all popular, Geranium oxonianum thurstonianum cultivars such as 'Katherine Adele' , 'Southcombe double', 'Phoebe Noble' and 'Wargrave Pink' are sought after.
Geranium pratense ( Meadow Cranesbill) offers us 'hocus pocus', 'midnight reiter', 'black beauty', striatum, plenum violaceum and 'summer skies'.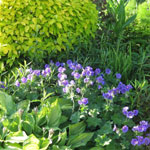 One of the best blue geraniums is 'Johnson's Blue' a hardy geranium that will clump up to fill a place in the garden border. This one will reach nearly 1/2m and is pictured right growing in the border next to hostas. Pictured right, photographed near Carlisle in Southern Scotland.
Geranium Types Include

Angel Geranium
Angels and mini regals are a cross between Scented and Regals, compact, smaller foliage and flowers. Masses of flowers in summer.
Decorative Regal Geranium
Dwarf Geranium
Fancy Leaf Geranium
Fancy leaf are usually Zonal or Ivy types that have been hybridised for the leaf colour and form. Flowers are often small, the foliage is the thing. Often harder to grow than other types these are another geranium that require filtered light to maintain leaf colour.
Ivy Leaf Geranium
Ivy Geraniums are also known as 'climbing geraniums' and indeed they can reach a good height with a little support to help them climb. Excellent as ground cover plants and the more compact forms are widely used in hanging baskets.

Some are Ivy geraniums are bi colour and these are best grown in light shade to prevent fading. These are a vigorous type, mostly disease free and seemingly not troubled by disease or rust.

Miniature Geranium
Oriental Geranium
Regal Geranium
Regals are the large flowered types, the flowers look a little like those of azaleas, large and frilly. They do require a cool nighttime temperature to flower 10 degrees C or less. Some growers artificially cool the root systems in winter .
Stellar Geranium
Scented Geranium
Many scented types are availbale, mostly hybrids using P.fragrans, P. odoratissimum, P. denticulatum and others
Species Geranium
Unique Geranium
Geranium Plants are available for sale online from the following Nurseries
MOUNT FOLLY NURSERIES - Phone: 01329 832294 : 07000 M-O-U-N-T-F
Southwick Road North Boarhunt Near Wickham Hants PO17 6JH
Includes; Regal Geraniums, Scented Geraniums, Trailing Geraniums, Zonal Geraniums and F1 GeraniumsYoung plants specialists.
www.mountfolly.co.uk
TOUCHWOOD PLANTS- Carrie Thomas tel 01792 522443
Postal Address 4 Clyne Valley Cottages, Killay, Swansea, SA2 7DU
Unusual, rare and cottage garden plants. Extensive seed lists, also plants for sale.www.touchwoodplants.co.uk
PENLAN PERENNIALS
Wern Rhos Newchapel Boncath SA37 0EN - Tel/Fax 01239 842260
Retail, Mail Order Specialists, Online Webshop, Peat Free, Organic, Aquatic, Marginal and Bog Plants, Waterlilies, Hardy Geraniums, Ferns, Grasses, Shade & Woodland Perennials. Free online catalogue.
WEB: www.penlanperennials.co.uk
THE PLANTSMAN'S PREFERENCE
Church Road, South Lopham, near Diss Norfolk NO POST PLEASE
Open Friday - Sunday, 9.30-5.00 March to October inc.
Phone +44 (0) 7799 855559 or +44 (0) 7733 074141
email tim@plantpref.co.uk
National Plant Collection¨∆ of Molinia hardy geranium, ornamental grasses, carex, festuca, elymus, molinia, miscanthus, panicum, pennisetum, stipa, rare plant, unusual perennials, perennial, woodland plants, shade plant, iris, achillea, polygonatum, asarum, anemone,¨? disporum, disporopsis, cardamine, vinca, salvia, ophiopogon,¨? epimedium, rushes, sedges, liriope.
WEB SITE www.plantpref.co.uk
SPECIAL PLANTS
Greenways Lane, Cold Ashton, Chippenham, Wilts SN14 8LA
Tel: 01225 891686
Email: derry @specialplants.net
Specialties¨?: hardy Geraniums, Grasses, hardy Impatiens, conservatory plants, tender Impatiens, Salvias, Pelargoniums, Seeds, Gardening gloves, new introductions from around the world
WEB: www.specialplants.net
WALNUT TREE GARDEN NURSERY
Flymoor Lane Rocklands Attleborough Norfolk NR 17 1BP
Tel: 01953 488 163
email: info@wtgn.co.uk
Offering a wide range of herbaceous perennials, ornamental trees,¨? shrubs and old roses; includes rare varieties and species and¨? well-loved classics; large plantsmans' garden.
WEB: www.wtgn.co.uk
You may also be interested in