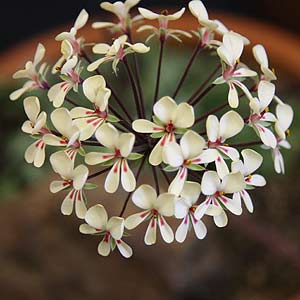 Pelargoniums
Pelargoniums and have long been a favorite garden plant in the UK, often called geraniums, however in the eye of the specialist a difference does exist and in fact in terms of growing them in the UK this difference counts. With many species and inumerable cultivars for sale in the UK we will concentrate here on pelargoniums, especially the species.
In brief, both pelargoniums and geraniums are from the the same family, pelargoniums are not frost and cold tolerant, geraniums are.
Pelargonium caroli henrici (picture above right) is one of the most recently discovered.
Where are pelargoniums from?
Most are from South Africa. Pelargonium sidoides is the South African 'geranium' widely sought for its medicinal properties. P. graveolens is another from the same area and has attractive flowers as well as reputed healing attributes as is the long flowering P. crispum. Pelargonium caroli henric (pictured above right) is another species worth looking for.
Not all Pelargoniums from South Africa, some are from Syria and Turkey , such as P. endlicherianum with its brilliant pink flowers, and others as far away as Australia and New Zealand.
Pelargonium Species Include

Pelargonium sidoides
Pelargonium hortorum
Pelargonium peltatum
Pelargonium citrosum
Pelargonium caroli henrici (picture above right)
Pelargonium Care
Generally speaking pelargoniums are a fairly tough and easy care plant, the main problems being overwatering or poor drainage, and of course frost, pelargoniums do not like frost and will need to overwintered indoors or in a conservatory.
Cuttings can be taken and new plants started each year, but by growing in pots or containers and moving to a warmer frost free position in winter they are fairly easy to keep going. Many growers will lift pelargoniums in autumn into pots or containers. Most species and hybrids are easily propagated from cuttings, and of course species come well from seeds.
Pelargoniums are ideal for growing both in the garden and in pots.
We suggest a humus and compost rich soil or potting mix. Potash will help increase flowering, over feeding may encourage a little to much leaf growth. Many species and types are available for sale from listed Mail Order Pelargonium Nurseries.
We have shrub type peralgoniums, tuberous rooted pelargoniums and succulent types, the shrubby ones can take more water than the others and are more widely used as garden plants in the UK.
The tuberous rooted and succulent types should only be watered duri ng active growth and then sparingly, they require a dry dormancy. An one last thing, with the species, some are winter dormant and some are summer dormant.
Pelargoniums are available for sale from the following participating nurseries
PENLAN PERENNIALS
Wern Rhos Newchapel Boncath SA37 0EN - Tel/Fax 01239 842260
Retail, Mail Order Specialists, Online Webshop, Peat Free, Organic, Aquatic, Marginal and Bog Plants, Waterlilies, Hardy Geraniums, Ferns, Grasses, Shade & Woodland Perennials. Free online catalogue.
SPECIAL PLANTS
Greenways Lane, Cold Ashton, Chippenham, Wilts SN14 8LA
Tel: 01225 891686 - email: derry @specialplants.net
www.specialplants.net
THE PLANTSMAN'S PREFERENCE
Church Road, South Lopham, near Diss Norfolk NO POST PLEASE
Phone +44 (0) 7799 855559 or +44 (0) 7733 074141 - email tim@plantpref.co.uk
www.plantpref.co.uk
WALNUT TREE GARDEN NURSERY
Flymoor Lane Rocklands Attleborough Norfolk NR 17 1BP
Tel: 01953 488 163 - email: info@wtgn.co.uk
www.wtgn.co.uk