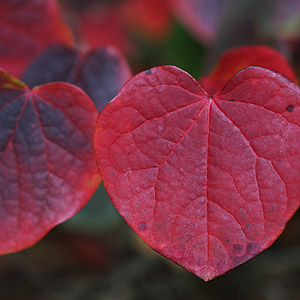 Disanthus cercidifolius
Some plants are just underrated and we think Disanthus cercidifolius one of them, it is not always easy to find in nurseries and ignored by many landscaper, however it is worth the search for it's outstanding autumn colour.
One of its outstanding characteristics is that it will give brilliant autumn color even in part shade.
Disanthus cercidifolius is the single species of the genus, new foliage is green however it is grown for its outstanding autumn color and heart shaped leaves.
Excellent at the back of the border where it can grow over the top of smaller evergreen shubs. Also useful as a feature shrub.
Care
Disanthus cercidifolius will grow to 3m with a similar spread. It requires similar conditions to those of Rhododendrons, try a position protected from strong winds and with an acidic, moist, rich soil.
You can prune to maintain a more bushy habit if required, we have let ours get long and leggy, in a little to much shade, however we think its actually looks graceful.
Disanthus cercidifolius are available for sale from the following nurseries
BURNCOOSE NURSERIES
Gwennap, Redruth, Cornwall TR16 6BJ
phone: +44 (0) 1209 860316 Fax: +44 (0) 1209 860011
You may also be interested in :