Triteleia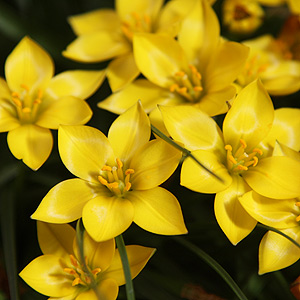 Although they have been grown in the UK and Europe for many years Triteleia are not that widely know. Summer flowering with flowers that last for weeks it may well be that they are not showy enough.
Although the flowers are small, you do get a lot on each stem, they are brilliant colors from white and yellow through to blue and quickly form a large clump that makes a good display.
Pictured we have the acid yellow Triteleia sellowiana, a variety not offered that often. It is the cultivars such as the wonderfully named, Triteleia Koningin Fabiola, that attract the attention, although it is really just the Californian hyacinth. However it is one of the sought after hybrids, tall stems and trademark blue starry flowers in spring, like all tritelia they prefer growing conditions in full sun and a well drained soil. Triteleia laxa is a lovely species as well.
Triteleia Care
Easy to grow and in fact requiring very little care at these are really an under rated bulb that is well suited to naturalising into the cottage garden. Dark blue star shaped flowers they grow ell in containers and in the garden. A well drained position that is frost free is best.
Triteleia are available fore sale from the following growers
MINIATURE BULBS & WILDFLOWER BULBS¬?¬?¬?¬?¬?¬?¬?¬?¬?¬?¬?
9 Greengate Drive, Knaresborough, HG5 9EN
Phone/Fax: 01423 542819¬?
BROADLEIGH GARDENS
Bishops Hull Taunton TA4 1AE
Phone: 01823 286231 Fax:01823 323646
You may also be interested in