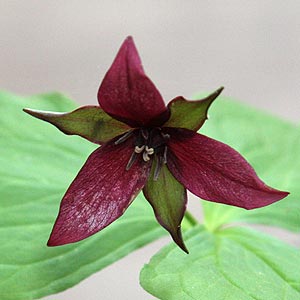 Trillium erectum
A variable species with flowers ranging from a pure white through to a deep crimson purple.
With flowers help well above the mid green foliage they will reach around .3m in height when mature.
The deep red flowers are the most common, white are a little more difficult to find. The purple ovary is a distinguishing feature
As they go underground in winter they are regarded as a hardy plant, however some care in winter is advisable in our cold climate.
Trillium erectum Care
A humus rich well drained soil is best, part shade, but not to deep. We like to mulch all of our trilliums in autumn, and we do go the natural, leaf mould way.
Fertilize using an all purpose slow release fertiliser, although we like a liquid seaweed fertiliser in spring, and when planting.
Trillium erectum will grow in troughs or containers, looks wonderful in a large clump in the garden as well.
Trillium erectum Cultivation

Division of established clumps, or from seed. From seed, speed up the process by stratifying using cold 2 months, warm 1 month and cold 2month using the baggie method. seedlings need to be left undisturbed for 3-4 years after planting out.
Trillium erectum Summary
Dappled Shade
Slightly Acidic soil

Well drained
You may also be interested in