Sweet Peas - Lathyrus odorous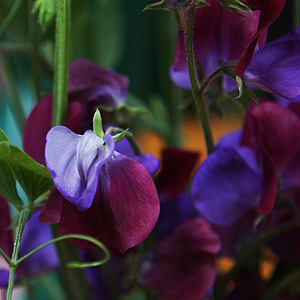 Sweet peas are a favourite scented climbing plant best planted in early March, they require a humus rich well drained soil and will require a climbing frame or wires for support. Sweet peas are easily grown from seeds purchased online.
Look for new dwarf varieties as well as old fashioned sweet peas. Sweet Peas are a fragrant and colourful addition to the summer garden Sweet Peas come in literally 100s of varieties and are repeat flowering.
Easily grown from seed sown in late winter to early spring, these annuals are a must for any cottage garden.
The much loved Sweet pea is Lathyrus odorous, this is an annual species grown as a climbing plant for wonderful fragrant flowers. However other perennial species are aalso available including the spring pea Lathyrus vernus and the Chick Pea Lathyrus sativus
The sweet pea is often grown from seeds and a favourite in cottage gardens some cultivars will reach around 2m given good conditions and support.
Germination is usually easy with good quality seeds and although a few gardeners recommend abrasion to speed up the process we do not find this to be necessary.
The time to plant sweet peas seeds is in spring as the soil warms up, so in the UK from March to April. We sow directly yo the ground, and place seeds around 4cm apart and then thin to around 8cm. Keep moist until well established.
Sweet Pea Care
Snails, slugs and other pests need to be looked out for. A sunny position and a humus rich soil is essential. An all purpose fertiliser seems to work well, although as always we do like to water in with a seaweed fertiliser.
Propagation of Sweet Peas from seed
The time to sow sweet pea seeds, lathyrus, are best sown in November in a greenhouse or a cold frame, a second sowing in March will give you another set of seedlings. Sweet Peas do not like to have their roots disturbed, so many home gardeners collect the cardboard toilet roll centres and use these as growing tubes. You can of course use special, sweet pea growing tubes, however rolled up newspaper tubes also work well.
Some gardeners like to soak seeds in water overnight to improve germination rates, other use a sharp blade to nick the seed before sowing. After sowing the seeds, keep them moist, but not wet. The seeds do not like to dry out, but can rot if they are to wet.
Plants need to be hardened off before planting out in spring once the danger of frosts has past. As the seedlings are growing in their protected conditions consider adding some well rotted compost to the soil. Choose a sunny position and a well drained soil and add as much organic matter as you can, dig in deeply.
The climbing sweet peas need a climbing frame, so put this in place before planting. Plant the seedlings out in spring and water in well with a liquid seaweed fertilizer. Sow seedings progressively over a month or so to prolong flowering.
And yes dwarf varieties suitable for growing in containers are available, they can even be grown in hanging baskets.
Sweet Pea Problems
Slugs and snails
Overwatering seedlings
Lack of fragrance due to lack of sun and warmth
Sweet Peas are available for sale from the following nurseries.
OWL'S ACRE SWEET PEAS
Kellett Gate Low Fulney Spalding PE12 6EJ
Phone: 01775 723284 Fax: 01775 762694
Sweet pea seed for exhibition and garden. Modern and old fashioned sweet peas, dwarf varieties and Lathyrus species. Mail order only.
email: mrowland@lathyrus.com
FIR TREE FARM NURSERY
Tresahor Constantine Falmouth Cornwall TR11 5PL
Tel : 01326 340593
We list over 4000 varieties of cottage garden and rare perennials, as well as over 100 varieties of Clematis. We offer mail order to the UK and Europe, and are open Tuesday to Sunday, from February to November. A catalogue is available on request, as well as on our website.
INCLUDES: Lathyrus vernus, Lathyrus letifolius, Lathyrus rotundafolius and others.
Orchid Resources for the UK