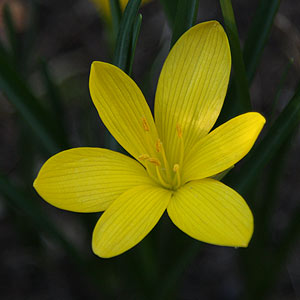 Sternbergia lutea
Although it might be a little tricky in colder areas of the UK Sternbergia lutea is well worth growing for the bright yellow flowers it brings in the colder momths.
Well known for the species Sternbergia lutea, these bulbs are originally from the Middle East. Also known as 'Lily of the Fields' they require free draining position in full sun
Sternbergia lutea (pictured right) is known as the 'Autumn crocus' or 'Winter Daffodil' and is a great autumn flowering plant. Wonderful large yellow flowers early in the season.
Sternbergia lutea Care
In the UK you will need a well drained soil and a sunny position. In poorly drained soils try lifting the garden bed a little to ensure that drainage is excellent. If you are growing them in the ground, a good layer of protective mulch over winter will help protect them from frosts and freezes.
Grow them in containers, or in a sunny garden bed next to a south facing wall. The heat from the wall will help them through winter.
A warm sunny position for this one, or try growing a group of them in an attractive pot or container in a protected position.
Sternbergia will benefit from application of a complete bulb food, or bone meal and sulphate of potash in the autumn.
Other Sternbergia varieties include:
Sternbergia clusiana.
Sternbergia fischeriana.
Sternbergia Sicula.
Sternbergia greuteriana.
Sternbergia candida is a pale flowered species from Eastern Turkey (rare in cultivation)
Where to grow Sternbergia lutea
Sternbergia require a well drained position in full sun. Try growing them in pots in all but the southern areas of the UK.
Sternbergia lutea are available for sale from the following nurseries
BROADLEIGH GARDENS - phone: 01823 286231
Bishops Hull Taunton TA4 1AE
Includes: Sternbergia
Mail order bulb specialists Tulips, Crocus, Narcissus, Iris, Colchicum, Lilium, Scilla and many more....
More Orchid Resources for the UK