Potentilla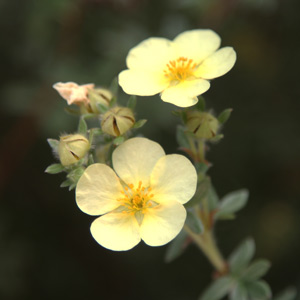 Attractive easy care plants that add colour to the garden are alway welcome, and Potentilla varieties can be a great addition to the border.
They flower well into autumn which is a real bonus, they also seem to thrive in poor soils in full sun, so they can be an excellent solution for a tricky position.
Ypu can grow most varieties from seed, although small plants of the more interesting species and cultivars are readily available for saloe online.
Varieties include :
European cinquefoil (Potentilla reptans) is a low growing perennial plant reaching around .3m (1ft).
Potentilla fruticosa is a small shrub with masses of attractive yellow flowers.
Potentilla gracilis is known as the 'Slender cinquefoil'.
Potentilla parvifolia is very similar to the well known P. fruticosa, however with a much smaller habit.
Lots of cultivars here with white, yellow and pink flowers that make an excellent low border or hedge for the cottage garden.
Potentilla fruticosa 'Abbotswood' which will reach around 1.2m (4ft) with its small white flowers against dark green foliage it requires just a little pruning in summer to keep it in shape.
Potentilla plants and cultivars for sale online
HEDGES DIRECT Ltd - Phone 01257 263873
Five Acres Nursery Dawbers Lane Euxton PR7 6EE
Huge range of beautiful hedging plants, bare root, cell grown, pot grown, or root balled. All the main hedging species in all sizes. Thousands of satisfied customers. Discounts on large orders. Min order value £20 & FREE DELIVERY on orders over £50. Advice by phone or email helpdesk@hedgesdirect.co.uk
www.hedgesdirect.co.uk
HALCYON PLANTS
Plas y Maes Trawsmawr Carmarthen SA33 6NH - Phone 01267 281031
Lavender, Bamboo, Shrubs, Perennials, Crocosmia, Lily, Potentilla, Plant Seed, Iris, Hemerocallis, Hardy Fuchsia, Hardy Geranium, Herbs, Dianthus, Hosta, Phormiums, Penstemon,Heuchera, Potentilla, Cistus.
www.halcyonplants.co.uk

THE GOBBETT NURSERY
Farlow, NR Kidderminster, Worcs, DY14 8TD - Contact Gordon & Chris Link
Shrubs, climbers & perennials. Specialising in Syringa, Camellia, Daphne, Magnolia, Cornus.Includes: Potentilla daydream, Potentilla goldrop, Potentilla elizabeth, Potentilla grace darling and others.
www.thegobbettnursery.co.uk
More Orchid Resources for the UK