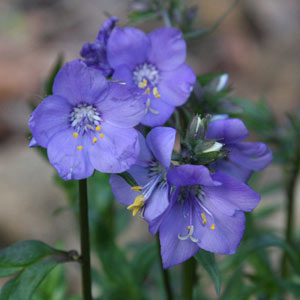 Polemonium 'Bressingham Purple'
A wonderful deciduous perennial this mound forming plant with ferny foliage and purple flowers in spring Polemonium Bressingham Purple is a lot more compact than many other species and cultivars. (see picture right)
Well suited to the rock garden or for growing in containers Polemonium yezoense Bressingham Purple will reach a height of around .5m. Foliage tends towards a deep purple in autumn.
Care
Foliage is a nice deep green and 'Bressingham Purple' grows well in part shade, or perhaps with protection from the afternoon sun.
In warm conditions 'Bressingham Purple' will be evergreen in the UK mostly deciduous.
A humus rich moist but well drained soil is best. When planting dig in some well rotted compost and water in with a liquid seaweed fertiliser. Heavy frosts will damage this plant so provide a winter covering if growing in colder climates outdoors.
Available for sale from from
EDROM NURSERIES - Telephone 018907 71386
Coldingham Eyemouth Berwickshire TD14 5TZ
More Orchid Resources for the UK