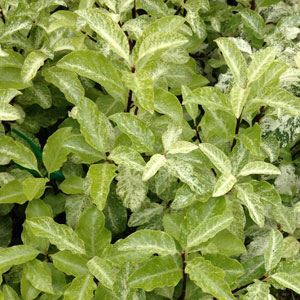 Pittosporum tenuifolium 'Irene Paterson'
On of the newer Pittosporum releases is 'Irene Paterson', and it is indeed a bright spot in the garden. Also known as Irene Paterson Kohuhu Yes it is from New Zealand and the Maori name for Pittosporum is Kohuhu.
The new foliage opens almost white and then turns to a green and white speckled color which adds a little life to the garden especially in winter.
Flowers are fairly small but are an attractive purple these appear in spring. Foliage is undulating which adds to the charm.
Smaller growing than many it will reach around 2m in height, more or less depending on conditions and will spread over 2m, it naturally seems to form a nice rounded mound. In its native New Zealand it does seem to get to around 3m, estimates of 1.2m in the UK seem a little conservative in our opinion.
Pruning requirements will depend a little on what you have in mind, as an informal it will require very little attention. If you are looking for a more 'formal' look, then as the foliage is small you can happily shape away during summer.
Pittosporum tenuifolium 'Irene Paterson' Care
A humus rich well drained soils best, full sun to part shade, in deep shade it can tend to become a little leggy. Mulch to provide a cool root run in summer and protection from extreme cold in winter. Fertilise with a general purpose fertiliser in spring.
Propagation is easiest from cuttings taken in summer.
Pittosporum tenuifolium 'Irene Paterson' Landscaping uses
Excellent as a low hedge, use Pittosporum tenuifolium 'Irene Paterson' at the rear of the border or grow as a formal clipped container plant.
You may also be interested in