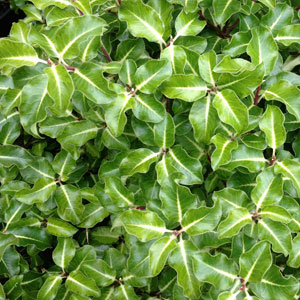 Pittosporum tenuifolium 'Gold Star'
Living up to its name with yellow and green foliage that looks like a 'star' Pittosporum tenuifolium 'Gold Star 'is a upright, bushy evergreen shrub. It has been around for a few years now but is well worth a look if you have not seem it yet.
Reaching around 3m in height with typical undulating foliage and faintly scented, dark maroon flowers in spring. The contrasting variegated foliage is the major attraction with this variety. Deep red stems are an added attraction.
As a filler in the border, or in a small garden it adds year round interest with the foliage.
It is the small foliage of these useful garden plants that makes them such a versatile plant, they are easily shaped and will form a dense screen if cut back regularly from an early stage to promote a bushy habit.
Like most pittosporum, 'Gold Star' grows particularly well in southern areas where the climate is a little milder, however in other areas they will thrive given a little protections and make an excellent screen to cover a fence or wall. Best not let climbing plants wend their way through the foliage, you will find that they begin to die back if covered to much.
Pittosporum tenuifolium 'Gold Star' Care
A humus rich well drained soils best, full sun to part shade. Mulch to provide a cool root run in summer and protection from extreme cold in winter. Fertilise with a general purpose fertiliser in spring.
Pruning is easy, as with other species, in general you will only need to prune regularly to help create a formal hedge, to maintain shape a little pruning every year or two will do. Best pruned after flowering just before the flush of new growth begins.
Always use sharp clean shears or secateures to ensure a clean cut and to reduce the risk of spreading diseases when pruning.
Summary
Height 2 - 3m
Foliage - Variegated Green and Yellow
Soil - Well drained
Aspect - Full sun to a little shade
Pittosporum tenuifolium 'Gold Star' Landscaping Uses
Seemingly a naturally denser growing form than some others, Pittosporum tenuifolium 'Gold Star' would make a nice low to medium hedge.
You may also be interested in