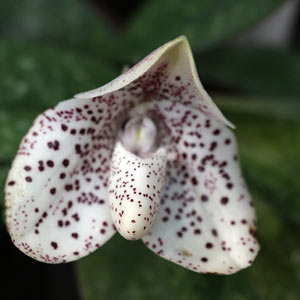 Paphiopedilum bellatulum
This spotted cooler growing species is one of the more interesting combinations, Paphiopedilum bellatulum white flowering with purple spots is just about unique as far as Paphs go.
This is a large Brachypetalum type and is actually best left undisturbed for a number of years. Probably not a species for beginers, however if you do get them growing successfully you will probably be hooked.
Care and growing conditions
Lots of good quality filtered light cool winters, warm humid summers, and fairly dry in winter and between watering. In the UK they will need to grown indoors, in a conservatory or greenhouse. They will flower from late spring to summer depending on conditions.
The temperature requirement would best be described as on the cool side of warm, Paphiopedilum bellatulum does not really like hot conditions.
Paphiopedilum bellatulum is a wonderful flowering specimen if you can get it going. Try a little limestone in the potting mix.
Try not to overpot, this is an orchid that likes a restricted root space.
Use an open free draining potting mix.
Plant high in the potting mix and let the roots find their way down,
Do not over water
You may also like
Orchid Resources for the UK