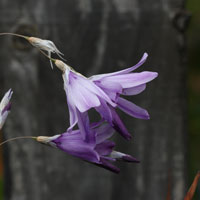 Dierama Plants
A drought tolerant plant from the Souther Cape, Dierama (picture right) grow from small corms usually in a well drained position in the mountains. They are widely known as 'fairy fishing rods' and African Hairbell and are readily available for sale online in the UK.
With around 40 species and many cultivars all with their trademark tubular flowers hanging from long stems they are aptly named Fairy Fishing Rods, or Angels Wands.
Popular species for sale in the UK include 'pulcherrimum' and 'igneum' along with the many cultivars with names like 'blackbird', 'snowbell' and 'merlin are well worth a place in the garden. Plants are readily available buy online in the UK. Species such as 'igneum' can be grown from seeds
Care and Cultivation
In the UK they actually grow well in the ground, but can also be grown in pots and containers. They do not enjoy the heavy clay soils, so you may need to improve drainage or perhaps raise the garden bed up a little and plant the Dieramas on a mound.
Once we have established a position in full sun that drains well these attractive plants require little care. We like to use (as always) some liquid seaweed fertiliser. A little slow release fertiliser if you must.

All Dierama require a well drained humus rich moist soil and do well in full sun. Some protection from hot afternoon sun in warmer areas is advisable as is protection from extreme cold. Dierama need 'room to grow'.
Dierama Species and cultivars
D. pulcherrimum 'Blackbird' is a deep red cultivar
D. pendulum has hanging flowers
D. dracomontanum has more open or outward curving flowers
D. robustum is a tall growing species
D. trichorhizum is the smallest species (very hardy)
D. 'snowbells' has nice white flowers
D. 'Merlin' has pendulous deep red flowers
D. igneum has 'open' pink flowers
Dierama plants can be grown from seed or clumps can be divided in late winter.
Pruning is a matter of removing old tired foliage to improve the look. Clumps can be divided in late winter to early spring once the frosts are over. Divide once they become crowded. Follow usual procedures of reducing the foliage to aid with transpiration and improve transplanting success rate. Yes Dierama species can be grown from seed.
Dierama plants are available for sale from the following participating nurseries

SPECIAL PLANTS
Greenways Lane, Cold Ashton, Chippenham, Wilts SN14 8LA - Tel: 01225 891686
Specialties¬?: hardy Ger aniums, Grasses, hardy Impatiens, conservatory plants, tender Impatiens, Salvias, Pelargoniums, Seeds, Gardening gloves, new introductions from around the world
ADAM'S GARDEN PLANTS
Wragby Market Rasen Lincolnshire - Tel: 07596981192
Small, private plant nursery set in rural Lincolnshire. We specialise in growing Dieramas also known as Angel's Fishing Rods but also stock lovely cottage garden perennials as well as a few rare and unusual plants.
You may also be interested in :